Ultimate Herbal Remedies – $2.50
Master Resell Rights Included!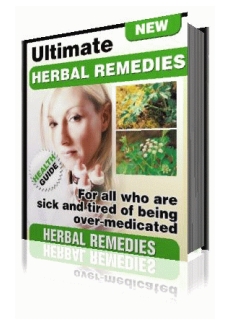 There are thousands of plants that can treat just many ailments. What is so amazing about herbal remedies is their close association to our modern medicines. Most of our current "wonder drugs" have a botanical connection.
Sadly, many of those medicines contain much more than simple botanicals. Stuffed with chemicals, allergens and who knows what else, we are fast becoming a medicated society.

We've got pills to make us sleep, pills to wake us up, pills to make us eat and pills to curb the appetite. It's absolutely crazy. Whatever ails you there's a pill to take care of it.

The good news is, that you can learn to wean yourself from your medicine cabinet. For every ailment that you are currently taking pills to correct, there's a natural remedy that can take it's place.

If you are sick and tired of being over-medicated, you can take control and start a journey toward natural herbal remedies.

In this ebook you can learn:

Popular herbs and their uses.

How to treat a sore throat.

How to prepare a blood purifier.

What to take for arthritis.

How to stop flatulence.

A gentle remedy for diarrhea.

What to use in place of ephedrine.

How to make your own toothpaste.

A way to remove bruises in 24 hours.

A quick treatment for insect bites.

How to stop hot flashes.

An effective treatment for psoriasis.

And Much More …

ADDITIONAL INFORMATION:
eBook Format: Adobe PDF
Platform: Windows and Macintosh
Download Format: Compressed .ZIP
File Size: 312 KB
Master Resell Rights: Yes!
Sales Page Included: Yes!
You will get an instant download of this product after purchase.