The Chakra Checklist – $2.50
Master Resell Rights Included!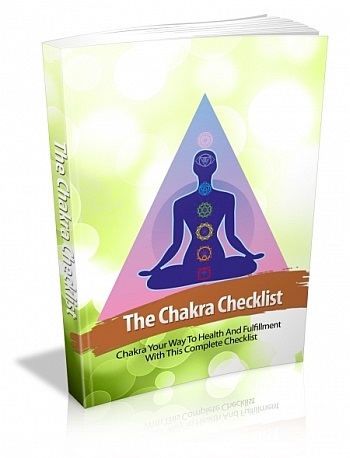 The chakras are described as being aligned in an ascending column from the base of the back to the top of the head. New Age practices frequently associate each chakra with a particular color. In assorted traditions chakras are affiliated with multiple physiological functions, an facet of consciousness, a classical element, and other distinguishing features. They're visualized as lotuses / flowers with a assorted number of petals in every chakra.
The chakras are thought to vitalize the physical body and to be affiliated with interactions of a physical, emotional and mental nature. The purpose of the chakras is to spin and attract in energy to keep the spiritual, mental, emotional and physical wellness of the body in balance.

They're stated by some to reflect how the unified consciousness of humanity is divided to manage assorted facets of earthly life. It is as well associated to spiritual healing. It will help you center your mind and body as you work to detect how your Chakras serve you and how to best utilize them as guides in day-to-day life.

This ebook includes the following chapters:
Chapter 1:
The Basics Of Spiritual Discovery
Chapter 2:
About Meditation
Chapter 3:
Meditation Techniques
Chapter 4:
The Throat and Chakra Connection
Chapter 5:
How-To Tips
Wrapping Up
ADDITIONAL INFORMATION:
eBook Format: Adobe PDF
Platform: Windows and Macintosh
Download Format: Compressed .ZIP
File Size: 1.39 MB
Sales Page Included: Yes!
Master Resell Rights: Yes!
You will get an instant download of this product after purchase.