The Phantom World – $2.50
Master Resell Rights Included!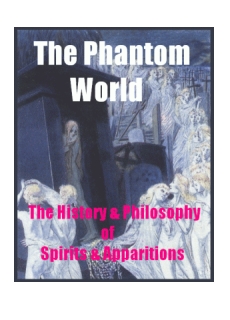 In this 599-page ebook (
The Phantom World: The History & Philosophy of Spirits & Apparitions
; two volumes in one), you will read in-depth the history and philosophy of spirits and apparitions, spanning many decades.
Here you will find cases of demoniacal possession, and instances of returns from the world of spirits, which were reputed to be of no uncommon occurrence.

Some of the chapters are:

Magic of the Egyptians and Chaldeans
Magic among the Greeks and Romans
Examples which prove the Reality of Magic
Of the Pagan Oracles
On Sorcerers and Sorceresses, or Witches
Of Familiar Spirits
Some other Examples of Elves
Spirits that keep Watch over Treasure
Spectres which appear, and predict things unknown and to come
Other Apparitions of Spectres
Of Spectres which haunt Houses
Apparitions of Spirits proved from History
More Instances of Apparitions
On the Apparitions of Spirits who imprint their Hands on Clothes or on Wood
Examination of what is required or revealed to the Living by the Dead who return to Earth
Arguments concerning Apparitions
Conclusion of the Treatise on Apparitions
Revival or Apparition of a Girl who had been Dead some Months
Another Letter on Ghosts
Ghosts in Northern Countries
Ghosts in England
Ghosts in Peru
Ghosts in Lapland
Return of a Man who had been Dead some Months
Instances of Resuscitated Persons who relate what they saw in the other World
and Many More …

ADDITIONAL INFORMATION:
eBook Format: Adobe PDF
Platform: Windows and Macintosh
Download Format: Compressed .ZIP
File Size: 2,245 KB
Master Resell Rights: Yes!
You will get an instant download of this product after purchase.