What Can Self-Hypnosis Do For You and Your Business – $2.50
Master Resell Rights Included!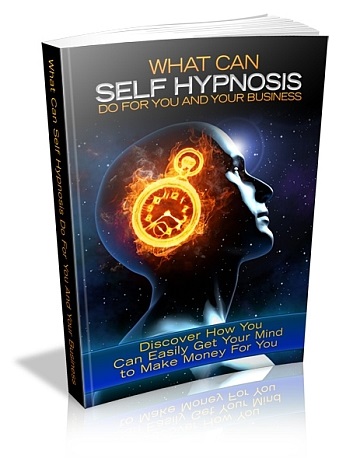 Hypnotherapy is a capital instrument for relaxation and alleviating stress. It helps calm down both the mind and body, giving a useful "respite". All the same it can be rather costly to hire a clinical hypnotherapist, and we might not always want one around when we would like to de-stress. This isn't a problem, as it's possible to do self-hypnosis, and this book will show you how to achieve self hypnosis as well as the benefits to you and your business.
Self-hypnosis is the greatest method known to men to bypass the interference and resistance of the aware mind and implant instructions directly into the Subconscious mind.

In this ebook, you will learn all about:
All of the information you need to truly de-stress!
What the trance is about.
How to put self hypnosis to work.
Why you need to read more to ramp-up your success.
How to kick your brain into gear and why it's important!
What a SOP is and why you need one.
And Much More …
It's all about knowing how to use the tools that are available correctly and how to put your mind to work. Self-hypnosis is a tremendous tool when one knows how to use it correctly.

ADDITIONAL INFORMATION:
eBook Format: Adobe PDF
Platform: Windows and Macintosh
Download Format: Compressed .ZIP
File Size: 1.00 MB
Sales Page Included: Yes!
Master Resell Rights: Yes!
You will get an instant download of this product after purchase.