Master Resell Rights Included!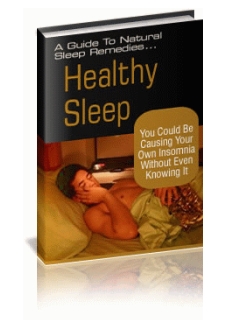 This ebook offers you alternative choices for achieving healthy sleep without the use of prescription drugs.
This ebook will teach you how to:
Set the mood for a comfortable sleep atmosphere.
Prepare your body for relaxation.
Use colors to stimulate calmness and relaxation.
Understand the importance of exercise.
Use music and other relaxation techniques.
Relieve your mind of anxiety and worry.
Discover the importance of reducing stimulants.
Use herbal teas and warm drinks to promote relaxation.
Use herbs and vitamins to promote natural sleep.
After reading this ebook you will have the information you need to turn your sleepless nights into restful ones, waking in the morning refreshed and alert rather than tired and anxious.
All of the techniques and sleep-inducing aids in the ebook can be applied naturally and easily in your life. Get ready to embark on the journey of falling asleep naturally!

ADDITIONAL INFORMATION:
eBook Format: Adobe PDF
Platform: Windows and Macintosh
Download Format: Compressed .ZIP
File Size: 127 KB
Master Resell Rights: Yes!
You will get an instant download of this product after purchase.