The Lucid Dreamer's Diary – $2.50
Master Resell Rights Included!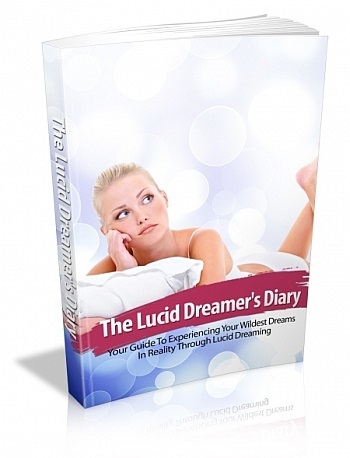 Your guide to experiencing your wildest dreams in reality through Lucid Dreaming … Endowed by the knowledge that the world they're experiencing is an origination of their own imagination, lucid dreamers may consciously influence the effect of their dreams. They may produce and transform objects, individuals, situations, worlds, even themselves. By the measures of the familiar world of physical and social realism, they may do the impossible.
The world of lucid dreams supplies a larger stage than ordinary life for nearly anything imaginable, from the frivolous to sublimity. You may, if you opted, revel at a mars festival, soar to the moon, or travel to secret lands. You may join those who are testing lucid dreaming as a tool for issue resolution, self-healing, and personal growth. Or you may explore the significances of teachings from ancient customs and accounts from modern psychologists that say that lucid dreams may help you find your deepest identity — who you truly are.

This ebook draws on a number of sources of knowledge about lucid dreaming. It strives to lay out, in a bit by bit fashion, everything you have to know in order to learn the skill of lucid dreaming.

Table of Contents::
Chapter 1:
Introduction To Lucid Dreams
Chapter 2:
Are Lucid Dreams Worth It
Chapter 3:
The First Step — Recall
Chapter 4:
How To Achieve Lucid Dreams
Chapter 5:
How To Remain Asleep Or Wake Up At Will
Chapter 6:
You Can Script Your Dream
Chapter 7:
Possible Dangers
Wrapping Up
ADDITIONAL INFORMATION:
eBook Format: Adobe PDF
Platform: Windows and Macintosh
Download Format: Compressed .ZIP
File Size: 2.59 MB
Sales Page Included: Yes!
Master Resell Rights: Yes!
You will get an instant download of this product after purchase.