Health and Wealth Magnetism: Using the Law of Attraction (PLR) – $2.99
Private Label Rights Included!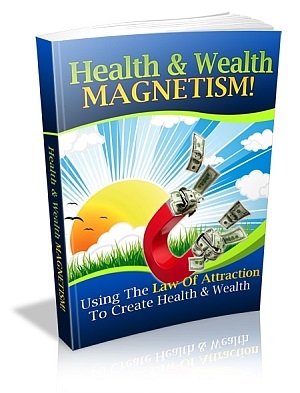 Your health and wealth improves by a proper blend of spiritual and material principles. What are these principles? In this eBook, we are going to expose various aspects of the Law of Attraction and see how we can apply it in one of the most important areas of our lives – attracting money. Can one really become rich by just thinking vividly about it? We need to understand the law better and learn how to implement it in order to get these answers.
Table of Contents

Chapter 1:
The Law of Attraction – What It Really Is and What It Is Not

Chapter 2:
Understanding the Secret

Chapter 3:
Mindset and Management

Chapter 4:
Pivoting Your Thought Process

Chapter 5:
The Secret and Your Money

Chapter 6:
Wealth Manifestation through the Law of Attraction

Chapter 7:
Applications to Internet Marketing

Chapter 8:
The Secret and Your Health

Chapter 9:
Balancing the Inner Self and the Outer Self

Chapter 10:
Improving Your Future

ADDITIONAL INFORMATION:
eBook Format: Adobe PDF
Platform: Windows and Macintosh
Download Format: Compressed .ZIP
File Size: 8.48 MB
Master Resell Rights: Yes!
Private Label Rights: Yes!
You will get an instant download of this product after purchase.