The Path to Prosperity – $2.50
Master Resell Rights Included!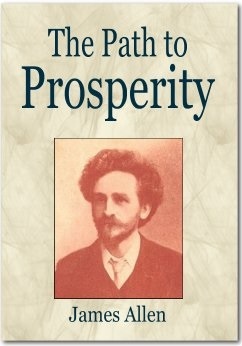 From the eBook by James Allen:
"I found one Law, the Law of Love; one Life, the Life of adjustment to that Law; one Truth, the truth of a conquered mind and a quiet and obedient heart. And I dreamed of writing a book which should help men and women, whether rich or poor, learned or unlearned, worldly or unworldly, to find within themselves the source of all success, all happiness, all accomplishment, all truth. And the dream remained with me, and at last became substantial; and now I send it forth into the world on its mission of healing and blessedness, knowing that it cannot fail to reach the homes and hearts of those who are waiting and ready to receive it.

"What you are, so is your world. Everything in the universe is resolved into your own inward experience. It matters little what is without, for it is all a reflection of your own state of consciousness. It matters everything what you are within, for everything without will be mirrored and colored accordingly.

"All that you positively know is contained in your own experience; all that you ever will know must pass through the gateway of experience, and so become part of yourself. Your own thoughts, desires, and aspirations comprise your world, and, to you, all that there is in the universe of beauty and joy and bliss, or of ugliness and sorrow and pain, is contained within yourself.

"By your own thoughts you make or mar your life, your world, your universe, As you build within by the power of thought, so will your outward life and circumstances shape themselves accordingly. Whatsoever you harbor in the inmost chambers of your heart will, sooner or later by the inevitable law of reaction, shape itself in your outward life."

ADDITIONAL INFORMATION:
eBook Format: Adobe PDF
Platform: Windows and Macintosh
Download Format: Compressed .ZIP
File Size: 207 KB
Master Resell Rights: Yes!
You will get an instant download of this product after purchase.