Anxiety & Panic Attacks (PLR) – $2.99
Private Label Rights Included!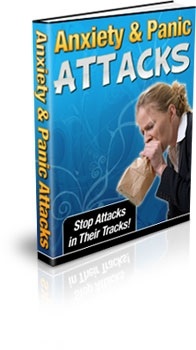 Anxiety is a state of mind. You allow your mind to think these thoughts and then you start freaking out—for something that you think is happening in your mind, but really isn't. However, you don't care if that's what it is. You are still scared, fearful and you can hardly get your bearings together.
There is a Solution to Manage Your Attacks…

Our Anxiety & Panic Attacks guide, has tips and additional information on what you should do when you are experiencing an anxiety or panic attack.

With so much going on in the world today with taking care of your family, working full time, dealing with office politics and other things, you could experience a serious meltdown. All of these things could at one point cause you to stress out and snap.

That's why this report is so important. It can help to relieve you of the symptoms you feel when you are experiencing an anxiety or panic attack. You can easily get caught up in all kinds of drama and allow it to take over your life. You can't allow that the dictate how you live.

CONTENTS:
Anxiety—What Is It?
Causes Of Anxiety
Who Suffers From Anxiety?

Other Forms Of Anxiety Attacks / Disorders
Panic Disorder And Panic Attacks

Getting Help

Medication And Treatment

Psychotherapy

Alternative Treatments

How To Make Your Treatment More Effective

Panic Attacks That Are Left Untreated

How To Prevent Panic Attacks

How To Lend Your Support

Resources
ADDITIONAL INFORMATION:
eBook Format: Adobe PDF
Platform: Windows and Macintosh
Download Format: Compressed .ZIP
File Size: 434 KB
Sales Page Included: Yes!
Master Resell Rights: Yes!
Private Label Rights: Yes!
You will get an instant download of this product after purchase.