An Angel By My Side – $2.50
Master Resell Rights Included!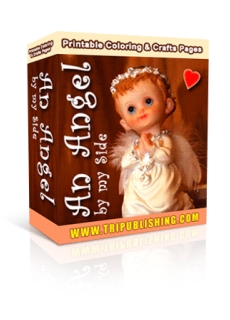 Do You Believe in Angels? Many people believe that Guardian Angels do exist. In times of trouble, an Angel is by your side, silent and unnoticed, caring for you and seeing you through the difficulties.
Celebrate the heart-warming idea of a helpful Angel by your side, eager to help when the road gets rough.

What's Inside? Used by parents, grandparents, teachers, craft artists, grown-ups and kids, An Angel By My Side: Printable Coloring & Crafts ebook provides you with 45 pages of printable, beautiful images of Angels helping real people through the rough spots. These graphics are heart-warming and touching, showing Angels by your side…
At the birth of your healthy baby
When you pray to God
At the receipt of the Sacraments
When you get hurt
When you are in risky situations
And MUCH, MUCH, MORE!
And, the best part is, you can access it within seconds of purchase and reuse the pages over and over again. This is because An Angel By My Side: Printable Coloring & Crafts comes to you as an Adobe PDF file.

The way you use these printable pages is only limited by your imagination!

Here are some real-life activities that people are doing with their copies of An Angel By My Side: Printable Coloring & Crafts:
"I printed them out for my children and they colored all afternoon! We cut out some of the images and used them to make nice gifts for relatives. Thanks again!"

"I teach Sunday School at our local church. I shared these printables with my class of third grade children and they simply adored them! I gave each child a different image to color, and afterwards, they explained to the rest of the class how the angel was helpful in the picture. It was a really nice activity and the children were excited to take home their picture and show it to their families. Great work. Thanks again!"
Save Money & Time!

What makes An Angel By My Side: Printable Coloring & Crafts different from a regular coloring book I could buy at the store?
Pages can be printed as needed, as many times as needed. A regular coloring book you can only use once. Not so with this ebook format. You can print out enough copies for all of your children. No more fighting over the book! So, just save the pdf file to your computer or a cd and use it again & again. Great for parties, at home, or in the classroom.

Because they are printed on separate sheets of paper, you never have to worry about those torn edges you get from regular coloring books when you rip them out for display. These look a lot neater hanging on the fridge! They are also much easier to work with!

Many times, children only want to color certain pages of a coloring book, leaving many pages going to waste. With this pdf of coloring pages, print only what you want, when you want!

If a child "messes up" coloring and wants to do it again, it's no problem! Just print out another.

This pdf of coloring pages is also tailored for those who like to do craft projects. Many of the images are very suitable for coloring in and then cutting out with scissors.

You don't have to wait for your coloring book to be shipped to you and you don't have to go to the store and purchase one. It will be delivered to you within seconds of purchase via internet download!
How Do I View and Print An Angel By My Side: Printable Coloring & Crafts?
All of the images are in black & white and are ready to be colored in. If you have a printer (just a black and white printer will do!), you are ready to print these wonderful coloring pages. Please note that upon viewing the images on your computer screen, the images may appear fuzzy or incomplete. This is because we've optimized the images for print only. Please rest assured that the actual pages are sharp, clear, and crisp upon printing.

You can print the pages on regular copy paper (8 1/2 x 11), or any paper of your choice. All images should turn out beautifully. (To achieve the "feel" of a regular coloring book, consider using recycled copy paper!) You can even print on both sides of the paper if your printer has such functionality, which will save you paper if you so desire.
ADDITIONAL INFORMATION:
eBook Format: Adobe PDF
Platform: Windows and Macintosh
Download Format: Compressed .ZIP
File Size: 1,670 KB
Master Resell Rights: Yes!
Sales Page Included: Yes!
You will get an instant download of this product after purchase.