How To Interpret Your Dreams – $2.50
Master Resell Rights Included!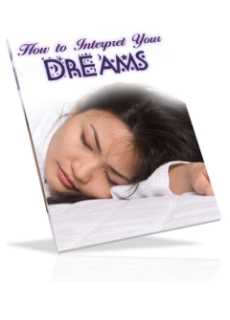 Do you have a dream that you can't explain? Are you worried by a nightmare or concerned that a bad dream may be a portent of the future? Do you have a specific nasty dream that keeps coming back to haunt you?
It's likely that your subconscious is trying to draw your attention to an unresolved issue that needs sorting out. Perhaps with a little help and guidance from this book, you could get to the bottom of what it is that's behind the dream.

Believe it or not, your sub-conscious talks to you through your dream images. When you unlock the mystery of the dream world, you will gain an insight into yourself and your life that you have never known. Our book will teach you how to open that knowledge and put it to use in your life.

Here is some of what you can you learn in this eBook:
Expert theories on dreams and dreaming.
How to remember your dreams.
The truth behind common dream themes.
What it means when you dream about certain images.
How to combat nightmares.
Have you ever awakened in the morning with the thought of a dream you had just had? Was it something confusing? Perhaps it was something weird. If you want to know what that dream meant, just open up this book and find out.

If you think that dreams are trivial and unimportant then think again. Your dreams are the key to understanding why you feel and act as you do in certain situations. What's even better is that they can help guide us in the right direction when we have questions or need to make changes in our life but are unsure of what to do! It's like having your own personal spiritual advisor right on your computer.

ADDITIONAL INFORMATION:
eBook Format: Adobe PDF
Platform: Windows and Macintosh
Download Format: Compressed .ZIP
File Size: 605 KB
Sales Page Included: Yes!
Master Resell Rights: Yes!
You will get an instant download of this product after purchase.