Affirmation Basics – $2.50
Master Resell Rights Included!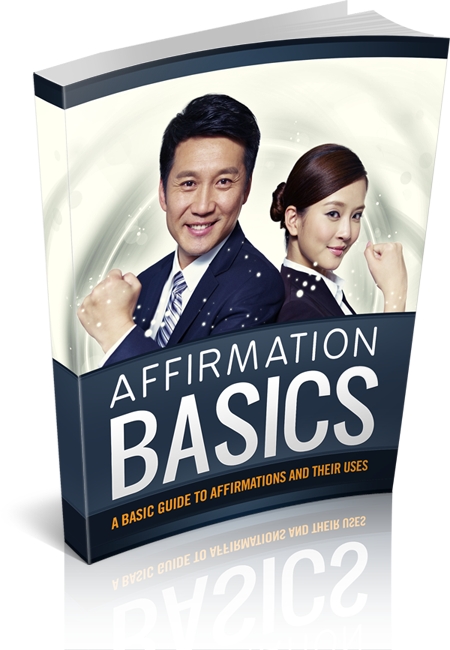 A Basic Guide To Affirmations And Their Uses
Affirmations, truly, are simple. They're you being in conscious command of your thoughts. They are brief, mighty statements. If you say them or think them or even hear them, they get to be the thoughts that produce your reality. Affirmations, then, are your conscious thoughts.
Affirmations overwrite any limiting or damaging beliefs you might have about yourself or about not being able to do something, and substitute them with favorable thoughts and beliefs which instill self-confidence, belief, positivity, ambitiousness and much more.
Research has demonstrated that we have between 45,000 and 51,000 thoughts a day. That's about 150 to 300 thoughts a moment. Research has likewise demonstrated that for most individuals 80% of those thoughts are damaging.
Affirmations make you consciously cognizant of your thoughts. If you begin making conscious favorable thoughts, you in reality become more aware of the damaging thoughts that are constantly threatening to take over.
To affirm means to state something positively. It means to announce firmly and assert something to be true. Affirmations are statements where you assert that what you wish to be real is real.
This ebook includes the following chapters:
Chapter 1:
Introduction
Chapter 2:
Intro To Affirmative Prayer
Chapter 3:
Intro To Cosmic Ordering
Chapter 4:
Intro To Creative Visualization
Chapter 5:
Intro To Mantras
Chapter 6:
Achieving A Positive Mindset
Chapter 7:
Writing Affirmations
Chapter 8:
Using Affirmations
Chapter 9:
Advantages And Disadvantages
Chapter 10:
Conclusion



ADDITIONAL INFORMATION:

eBook Format: Adobe PDF
Platform: Windows and Macintosh
Download Format: Compressed .ZIP
File Size: 1.59 MB
Sales Page Included: Yes!
Master Resell Rights: Yes!

You will get an instant download of this product after purchase.