Hypnotherapy Health – $2.50
Master Resell Rights Included!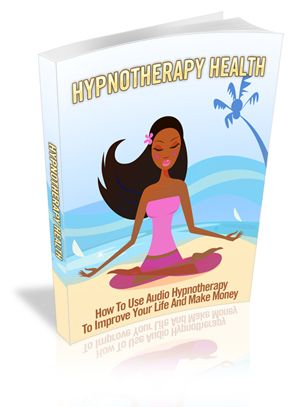 While it might be easy to say that positive thinking may produce a lot of beneficial results, still the thought of getting the mind to think that way might not be as simple as you think, particularly when we're at our conscious state, particularly when weighing the pros and cons of each of our actions.
But with hypnosis, the mind may be convinced to accomplish such things and work wonders when it concerns our positive mental conditioning processes. With hypnosis, we may heighten our sense of concentration. This is especially helpful when we want to free our minds for centering on what is really crucial for us and separate out other trivial ideas.

The concentration aspect has been found to be specifically helpful for those who wish to better people skills, communicating skills, memory and comprehension, creative thinking, focus and much more.

One's personal mindset may also be bettered dramatically through hypnosis, particularly for those who want to better their personal well-being for the enhancement of their careers, professional and personal relationships, time direction, anger management, positive mental feedback and centering towards accomplishing goals.

Table Of Contents:

Foreword

Chapter 1:
What Audio Hypnotherapy Can Do For You

Chapter 2:
Finding And Overcoming Fears

Chapter 3:
Arouse Your Senses

Chapter 4:
Audio Hypnotherapy To Treat Depression

Chapter 5:
Defeat Shyness

Chapter 6:
Coping With Stress

Chapter 7:
Goals And Life Purpose

ADDITIONAL INFORMATION:
eBook Format: Adobe PDF
Platform: Windows and Macintosh
Download Format: Compressed .ZIP
File Size: 677 KB
Sales Page Included: Yes!
Master Resell Rights: Yes!
You will get an instant download of this product after purchase.