Enter the Mystical World of Feng Shui – $2.50
Master Resell Rights Included!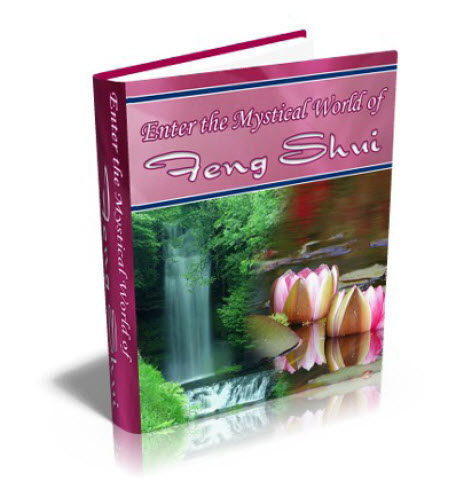 Feng Shui has been practised for thousands of years and relies on the laws of heaven and earth to help people balance their energies within a space. The principle of five elements is important to the concept of Feng Shui. They work in certain ways in accordance with the rotation of the Productive and Destructive Cycles. All five of the elements correspond with a certain color. Some of the elements will use more than one color. The best way to utilize these elements is to open your space to more happiness.
The Productive and Destructive cycles control the five elements of Feng Shui. Wood is part of the Productive Cycle that is produced by the Element Water. The Cycle continues with the creation of Fire, Earth, Metal and last but not least, Water, in that order. The Cycle does not stop and complement each other. They also maintain a positive flow with one another.

Even though it's on the opposite end, the Destructive Cycle has just as much prominence as the Productive Cycle. Anything that is negative or contributes to decay is removed. This makes way for things that are positive and will help in the Feng Shui process.

The areas that are incorporated with Feng Shui are built to have energy in mind. There is always energy around us that continues to circulate every minute of the day. You can do the same thing at your home. Incorporating the principles of Feng Shui can help you to have a healthy and happy home.

Table of Contents:
What Is Feng Shui?
Methods of Feng Shui
The Five Elements of Feng Shui
The Colors of Feng Shui
Introduction On Creating A Happy Home With Feng Shui
Incorporating Feng Shui If Your Home Is In A Cul-de-sac
Why You Should Not Use Direct Alignment For The Doors In Your Home
Feng Shui For Your Kitchen
Create Wealth And Abundance Using Feng Shui In Your Bathroom
Implementing Mirrors With The Concept Of Feng Shui
Feng Shui In Your Bedroom To Enhance Your Love Life
Feng Shui For Your Home Based Business
Using Feng Shui For Your Internet Business
Using Feng Shui For A Retail Business
How To Get A Feng Shui Consultant
Conclusion
Resources
ADDITIONAL INFORMATION:
eBook Format: Adobe PDF
Platform: Windows and Macintosh
Download Format: Compressed .ZIP
File Size: 628 KB
Master Resell Rights: Yes!
You will get an instant download of this product after purchase.