Acupuncture for Cynics – $2.50
Master Resell Rights Included!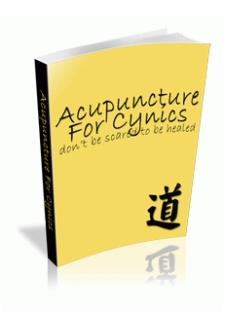 If you associate acupuncture with needles, pain and weird alternative medicine then you are horribly misinformed about the benefits of the world's oldest form of medicinal treatment.
Acupuncture has been used for over 5,000 years treating ailments ranging from back pain, insomnia, and migraines and more recently to help with weight loss, quitting smoking and stress. Acupuncture is safe, pain free and can help you feel better.
If you are searching for a remedy and modern medicine hasn't been able to provide relief, then it's time you started learning how acupuncture can help you feel your best. Don't be a skeptic, Acupuncture For Cynics can teach you everything you need to know to feel safe and comforted and make an informed decision about your health.
Acupuncture is an ancient medical technique that has helped billions of people over the course of 5,000 years and is still being practiced to this day. Modern medicine respects the treatment and most Western doctors will recommend acupuncture as a beneficial alternative to treatments.
There are a variety of different acupuncture treatments and it is important for you to chose the type that is most comfortable for you. Acupuncture For Cynics will help you understand the differences between the different types and find out which is right for you.
For the true cynic, Acupuncture For Cynics even provides information about medical acupuncture. Medical acupuncture combines modern medical treatments with the ancient methods of acupuncture.

ADDITIONAL INFORMATION:
eBook Format: Adobe PDF
Platform: Windows and Macintosh
Download Format: Compressed .ZIP
File Size: 2,269 KB
Master Resell Rights: Yes!
Sales Page Included: Yes!
You will get an instant download of this product after purchase.