The Ultimate Life Improvement Encyclopedia – $2.50
Master Resell Rights Included!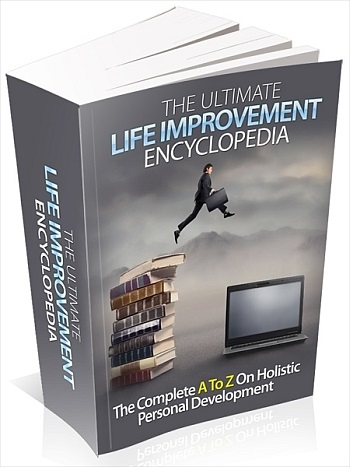 An A To Z Guide on Holistic Personal Development. Your imagination is a gateway to the possible and a bridge to your unconscious mind. It's the limitless palate with which you craft your world and a built-in key to manifesting your hopes. Your subconscious mind doesn't recognize the deviation between what is genuine and what is imaginary. Your imagination is your preview of life's coming attraction.
Whether it's diversifying your knowledge or reducing your affect on the earth, there are seemingly endless small things you are able to do to make a shift for the better and make yourself more attractive to other people at the same time. In this ebook, we'll talk about some of these steps, and how you are able to go about executing them.

This ebook includes the following chapters:
Chapter 1:
How You See Things
Chapter 2:
Opportunity and Unity
Chapter 3:
Providing Truth and a Helping Hand
Chapter 4:
How Your Actions Affect Everything Else
Chapter 5:
Your Wellbeing and Love
Chapter 6:
Your Wellness and Power
Chapter 7:
Get Your Mind Right
Chapter 8:
Get Prepared
Chapter 9:
A Final Word About Strength
Wrapping Up
ADDITIONAL INFORMATION:
eBook Format: Adobe PDF
Platform: Windows and Macintosh
Download Format: Compressed .ZIP
File Size: 1.53 MB
Sales Page Included: Yes!
Master Resell Rights: Yes!
You will get an instant download of this product after purchase.