The Ultimate Crystal Healing Guide – $2.50
Master Resell Rights Included!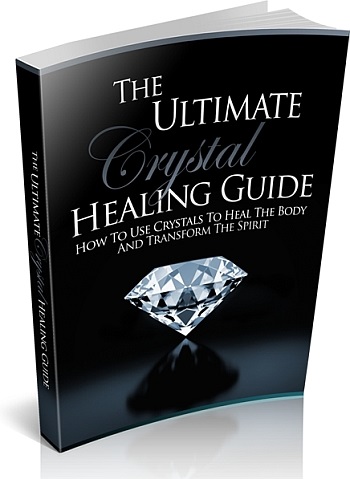 Learn how to use crystals to heal the body and transform the Spirit … Crystals, also known as crystalline solid, are solid materials that are arranged in a sequential pattern in a three spatial dimensions. Large crystals are often recognized through their macroscopic geometrical style with flat faces and unique characteristics. Though most people are familiar with crystals, some are not aware of their healing power.
Crystals bring light and color to your overall aura and physical body. They do this through the chakra system and subtle body layers. They are also used in a certain grid pattern of sacred geometry. These grids generate pillars of light exposing the body to multi-dimensional understanding and awareness.

Stones, crystals and gems are laid on the body over the chakra points. Every chakra resonates to a certain color and the chakras align and mix with one another. Chakra is a Hindu word, which means spiritual energy. According to various researches, there are seven fundamental energy centers in the human body. Some healers place identical color crystals as the color of the chakras on the individual to develop the flow of energy. Crystals direct the energy flow to the person and bring balance to their energy. Generally, they are used to purify the person from negative or bad energy that is believed to cause severe disease.

The main principle behind the need for crystal healing is that diseases take place when there is inequality between divine energy and a person. This light or divine energy is believed by most healers as the main groundwork of universal creation.

To understand more about crystal healing, this ebook will serves as your guide. To ensure that you have the best crystals, understanding their do's and don'ts is a must. From its basic principles to the underlying facts about crystals, you will learn how crystal healing will dramatically change your life.

Table of Contents:
Foreword
Chapter 1:
Introduction
Chapter 2:
What is Crystal Healing all About?
Chapter 3:
The Benefits of Crystal Healing
Chapter 4:
What Types of Crystals are There?
Chapter 5:
Knowing the Differences Between Minerals
Chapter 6:
Using Crystals to Heal Yourself and Others
Chapter 7:
How to Program Your Crystals
Wrapping Up
Do's and Don'ts with Crystals
ADDITIONAL INFORMATION:
eBook Format: Adobe PDF
Platform: Windows and Macintosh
Download Format: Compressed .ZIP
File Size: 3.86 MB
Master Resell Rights: Yes!
Sales Page Included: Yes!
You will get an instant download of this product after purchase.