Mantra For Beginners – $2.50
Master Resell Rights Included!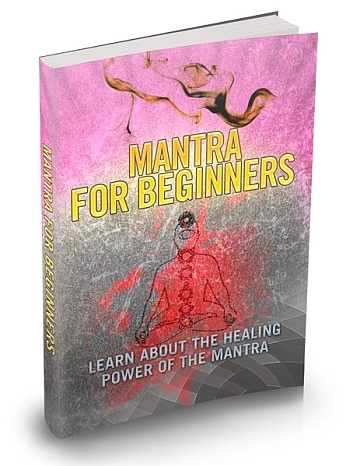 Learn about the healing power of the Mantra! To most this word Mantra gives off an aura of mystery and mystique. If properly understood and used Mantra can indeed produce powerful results.
Essentially it makes claims of the speech as having the essence of humanity and thus everything verbalized has some unseen power connected to it. This power becomes evident when seriously practiced. Conceptual ideas remain just that until they are actually verbalized.

There are many explanations to the complexity of the mantra. Purportedly saying the word produces an actual physical vibration. If the meanings behind the words are strong meant to come to pass then the vibration takes on a level of significance bring energy to the words.

Thus the coupling of the spoken word and the mental influence plays a part in creating the "power" that carries the intent into significance. The general understanding is that there is power in the word but this power is released or magnified only when actually verbalized.

This ebook includes the following chapters:
Chapter 1:
Mantras-The Basics
Chapter 2:
The Belief About And Power Of Mantras
Chapter 3:
What Problems Can Be Related To Mantras
Chapter 4:
Producing Positive Mindset
Chapter 5:
Mantras And Illness
Chapter 6:
Managing Pain With Mantra
Chapter 7:
Practicing Mantra Effectively
Chapter 8:
Effective Use For Healing
Chapter 9:
Investigating Mantras Further
Chapter 10:
The Things You'll Miss Out On By Not Using Mantras
Wrapping Up
As the mind becomes open and free to "explore" a mantra practitioner is able to dip into the essence of cosmic existence, and along the way the understanding of the vibration of elements and its connections become more enlightening.

ADDITIONAL INFORMATION:
eBook Format: Adobe PDF
Platform: Windows and Macintosh
Download Format: Compressed .ZIP
File Size: 4.04 MB
Sales Page Included: Yes!
Master Resell Rights: Yes!
You will get an instant download of this product after purchase.