The Magic of Miracles – $2.50
Master Resell Rights Included!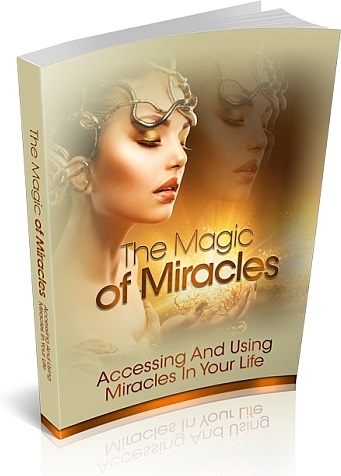 Learn how to access and use miracles in your life … The dictionary defines the word "miracle" as an extraordinary, unusual or supernatural event that manifests divine intervention in the affairs of men. When miracles happen, laws of nature are broken and a higher being is at work.
Different people in different cultures believe in different Gods or "supreme beings". Ganesha, Hanuman, Lakshmi, Shiva, and Durga are some of them. In the fourth spot, you have Buddhism at 5.84%. Unlike the first 3 religions, the Buddhists do not believe in any God but rather adhere to the concept that any man can be enlightened by having a certain code of conduct and undertaking a method of mental discipline. They believe that "enlightened ones" will save all beings from sufferings. Buddha is an "enlightened one". He is considered by Buddhists as the enlightened father of humanity but not a God because they do not believe in the concept of God.

In all these religions, there have been extraordinary events amongst its believers that cannot be explained and whether they attribute it to their Gods, supreme beings or even to nature, all these unexplained events are collectively considered as miracles.

Buddhists worship through chanting, meditation and reading scriptures. They may do this at home or at a temple. Unlike other religions that pray individually and in groups, Buddhists do not have to be together when they worship. Often, there is a statue of Buddha with candles and incense burners below. Worshipers sit on the floor barefoot while chanting and facing Buddha. If monks are present, Buddhists will listen to monks as they chant from Buddhist texts. Usually this is done while appropriate music is playing.

Hindu worship is called Puja. Puja is done before home shrines or in temples. Hindi worships consist of the use of the five senses – sight, hearing, touch, taste and smell. It also involves the 5 elements – light, fire, earth, water and air. They chant prayers to their different Gods and Goddesses. They also pray to animals. The cows and rats are very sacred to them. As in other religions, Hindus have different prayers for each of their Gods.

Miracles, as described earlier, are extraordinary, unusual or supernatural events that manifest divine intervention in the affairs of men. This is the "big" definition of miracles. When coincidences happen and they affect or become relevant in our lives, perhaps they are not just coincidences but small miracles. Nobody ever said that miracles had to be big. Small miracles happen every day. Among many other things, you will learn the differences between miracles and coincidences.

ADDITIONAL INFORMATION:
eBook Format: Adobe PDF
Platform: Windows and Macintosh
Download Format: Compressed .ZIP
File Size: 2.37 MB
Master Resell Rights: Yes!
Sales Page Included: Yes!
You will get an instant download of this product after purchase.