How To Stop Worrying & Start Living – $2.50
Master Resell Rights Included!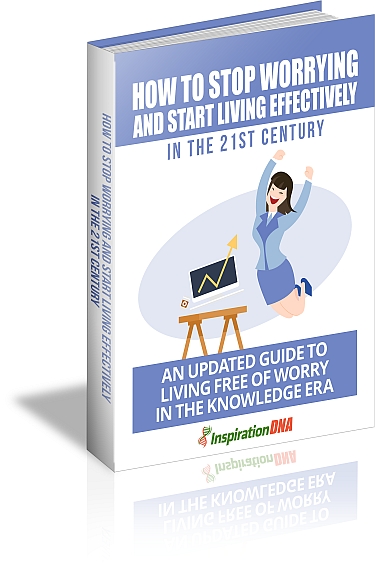 Are you constantly worrying about everything? There are a few things you have to think about and do in order to get your thoughts back on track. In this ebook, I'm going to share these things with you and hopefully they can help you get those positive thoughts back in your brain, too.
Worry is that sense of fear that can overcome you in relation to your work or an illness or other situations. A few individuals even suffer from panic attacks where their level of worry is so high that it's debilitating. We worry about the future believing that we are totally helpless as to influencing what will happen next in our lives. I have come to trust that we are not helpless in every aspect of our lives. Worrying has a tendency to lead our imagination in the negative direction.
Every system in your body is affected by worry. Besides raising blood pressure and increasing blood clotting, worry can prompt your liver to produce more cholesterol, all of which can raise your risk of heart attack and stroke. Muscle stress can produce headaches, back pain, and other body aches. Worry can also trigger an increase in stomach acid and either slow or speed up muscle contractions in your intestines, which can lead to stomach aches, constipation, diarrhea, gas or heartburn. Worry can affect your skin as well. It can affect your respiratory system and aggravate asthma. Growing evidence even proposes that chronic worry can compromise your immune system, making you more vulnerable to bacteria, viruses, and perhaps even cancer. There's one thing that worrying does not do. It does not make the situation better. Therefore, we should find an alternative to worrying so that we have less worry and stress in our lives.
Luckily, there are methods that you are able to learn and practice that can be valuable for decreasing worry. In enforcing any of these worry-reduction methods, the earlier it's applied, in other words the earlier you are able to catch the worry, the more effective in the long run the technique will be. This is because the longer an episode of worrying lasts, the more the habit is reinforced and the more you are strengthening the bonds between the particular worrisome ideas in particular. Put differently, you are reinforcing the habit. Therefore, the earlier the worrying is caught, the less that habit is strengthened.
This ebook includes the following chapters:
Chapter 1:
Ten actions
Chapter 2:
What is Worry?
Chapter 3:
Reduce Worry
Chapter 4:
Recognizing Worry is Within Yourself
Chapter 5:
15 Things That You Can Do Without Worry
Chapter 6:
What Worry Can Do
Chapter 7:
Beating Financial Worries
Chapter 8:
Using Yoga
Wrapping Up
ADDITIONAL INFORMATION:
eBook Format: Adobe PDF
Platform: Windows and Macintosh
Download Format: Compressed .ZIP
File Size: 3.07 MB
Sales Page Included: Yes!
Master Resell Rights: Yes!
You will get an instant download of this product after purchase.