The Compendium To Everything Related To Health & Wellness – $2.50
Master Resell Rights Included!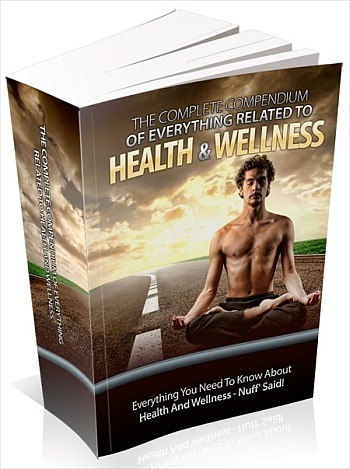 A lot of us run through the day with so many responsibilities that we don't have even an instant to treat ourselves. Coping with deadlines at work, attending to the kids, replying to that demanding client — we respond and react to the needs of other people. It's time to do a few merciful things to reward yourself and get your health in order.
Energy is crucial in this sleep-deprived, overstretched, high-velocity existence. How do we reload our batteries when there's a ceaseless drain on our resources?

In some practices of medicine, energy is known as "qi" (pronounced "chi"), and among the most crucial ways we establish qi is by breathing deeply. Tension, miserable posture, a plump waist, and habit are a few of the reasons why our breath doesn't pull through to the bottom of our lungs. Diaphragmatic breathing, a.k.a. belly breathing, is an easy way we may increase our qi vigor and better our stamina.

In this ebook you'll be introduced to different types of workouts and exercises for all ages, you'll tap into the secrets of hollistic health for overall wellness. Besides mindset training, the fitness and wellness strategies have been mapped out clearly in this guide so that anyone – whether a novice or beginner – can start learning and applying these techniques and achieve results quickly.

This ebook includes the following chapters:
Chapter 1:
Get Reenergized
Chapter 2:
Pay Attention To Your Soul
Chapter 3:
Eat Right
Chapter 4:
Get Your Body Working Better
Chapter 5:
Mind and Body
Chapter 6:
Getting Your Diet In Order
Chapter 7:
All About Carbs
Chapter 8:
Diets
Chapter 9:
Using Hormones and Supplements
Chapter 10:
Exercise
Wrapping Up
ADDITIONAL INFORMATION:
eBook Format: Adobe PDF; 49 pages
Platform: Windows and Macintosh
Download Format: Compressed .ZIP
File Size: 1.62 MB
Sales Page Included: Yes!
Master Resell Rights: Yes!
You will get an instant download of this product after purchase.