The Best Home Remedies For Head Lice (PLR) – $2.99
Private Label Rights Included!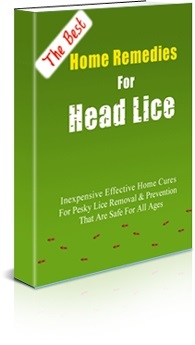 Discover The Best, All-Natural, Inexpensive Home Remedies For Treating & Preventing Head Lice No Matter How Severe The Case!
This guide was written for those out there that have tried every single over-the-counter remedy for ridding yourself, or a loved one, of those pesky critters, head lice. I know, it's tough to get rid of them. Often times, down near impossible it seems. Even prescription remedies don't always work. It seems as if lice have built up a tolerance to most cures.

The information you have in front of you was designed with this in mind. So, if you are someone who has tried everything on the market, and are still coping with this embarrassing, and time-consuming problem, then what is to follow will hopefully help you in some form.

It is also here to help you identify head lice without a doubt and know that this is what you are dealing with before moving ahead with any plan of treatment. In addition, it will tell you where they live and breed, which is not always on the head, as most think, so that you can be sure you have gotten rid of the problem once and for all.

Throughout this guide you will be given helpful tips on how to not only rid head lice from your person, but also how to insure that these bugs are not hiding within your home to prevent further exposure.

ADDITIONAL INFORMATION:
eBook Format: Adobe PDF
Platform: Windows and Macintosh
Download Format: Compressed .ZIP
File Size: 1.12 MB
Sales Page Included: Yes!
Master Resell Rights: Yes!
Private Label Rights: Yes!
You will get an instant download of this product after purchase.