Unraveling Alzheimer's Disease (PLR) – $2.50
Private Label Rights Included!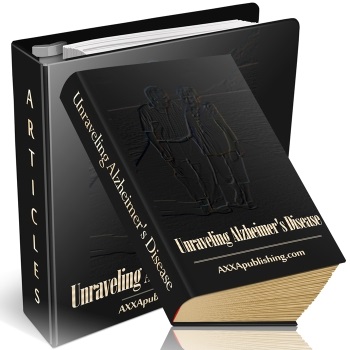 Alzheimer's disease is an ailment that affects the mind, causing a person to forget time, places, and people. The disease often targets the older generation, yet at times, it will hit younger people, too. To help you understand Alzheimer's disease we will review in this ebook conditions, symptoms, etc. In addition, we will learn ways to help prevent, delay, detect, and even put an end to the disease of the mind. To help you relate we will also discuss a few added forms of how one can lose memory.
Alzheimer's is a disorder of the brain, which leads to progressive memory loss. Alzheimer's is a form of dementias, which can escalate to progeroid syndrome. The condition will cause aging signs to increase dramatically, which shortens the expectancy of life. This is where Alzheimer's come in, since it is a general condition known as the sister of progeroid syndrome.

According to statistics, at least one of two families residing in the United States alone will experience Alzheimer symptoms. Statistics claim that around "five million" American are diagnosed annually with Alzheimer disease. Out of the statistical forecasts claim those over sixty-five has double the odds of acquiring Alzheimer's.

In this 103-page ebook, you will see what you can do to understand, accept, and find a way to fight the disorder that robs the minds of their own history.

ADDITIONAL INFORMATION:
eBook Format: Adobe PDF
Platform: Windows and Macintosh
Download Format: Compressed .ZIP
File Size: 9.59 MB
Sales Page Included: Yes!
Master Resell Rights: Yes!
Private Label Rights: Yes!
You will get an instant download of this product after purchase.