Reincarnation: A Study In Human Evolution – $2.50
Master Resell Rights Included!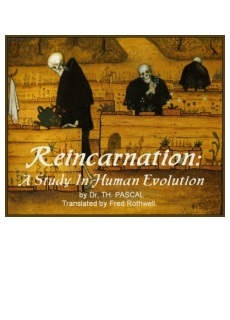 This 117-page ebook is divided into four chapters:
(1) The Soul and the bodies.
(2) Reincarnation and the moral law.
(3) Reincarnation and science.
(4) Reincarnation and the religious and philosophical concensus of the ages.

After death the soul, set free from its illusory sheaths, makes an impartial review of its recent incarnation, attentively following its actions and their consequences, noting its errors and failures, along with their motives and causes. In this school it grows in knowledge and power; and when, in a future incarnation, the same difficulties present themselves anew, it is better equipped for the struggle; what has been learned, is retained within the soul; it knows, where formerly it was ignorant, and by the "voice of conscience," tells the personality what its duty is.

When a soul, in the course of evolution, has succeeded in impressing its vibration—its thought—on a brain which it has refined and made responsive by a training which purifies the entire nature of the man, it is able to transmit to the incarnated consciousness the memory of its past lives; but this memory then ceases to be painful or dangerous, for the soul has not only exhausted the greater part of its karma of suffering, it also possesses the strength necessary to sustain its personality, whenever a foreboding of what we call misfortune comes upon it.

Thought creates lasting bonds between human beings; love and hatred enchain certain individuals to one another for a whole series of incarnations….

ADDITIONAL INFORMATION:
eBook Format: Adobe PDF
Platform: Windows and Macintosh
Download Format: Compressed .ZIP
File Size: 1,343 KB
Master Resell Rights: Yes!
You will get an instant download of this product after purchase.