I Can, Therefore I Will (PLR) – $2.99
Private Label Rights Included!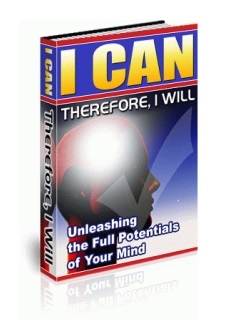 Unleash the Full Potentials of Your Mind … Learn how to conquer your fears and turn your dreams into reality. You have the power – the power to mold your personality into someone you always wanted to be, the power to shape your future according to how you wanted to live, and the power to create your destiny as to how you wanted to make certain things happen.
You are capable of attaining your heart's deepest desires – by unleashing the hidden powers of your mind! You'll learn to train your mind on how to create positive reality through positive thoughts. There's a saying that "If you think you can or think you can't, you're right."

There is no doubt that you can accomplish anything if you put your mind into it. The only problem is that many people do not know how to use their minds to their best advantage. Losing is not about not being able to win; it's more about not even trying. So, the moment you say 'no' to something, it's just as bad as giving up and accepting your failure.

On the other hand, real success is not always about being able to reach your goal, or winning that gigantic trophy; rather, it's more of standing up after every fall and never losing hope to finish what you once started. The real harm is not believing in yourself – making you feel worthless and insignificant. When you don't believe in yourself – what you can be or what you can do – all you can say are superficial thoughts such as I am not good enough, or I can't really do that.

When you think you are not capable, you truly will not be good enough and you won't really be able to do a certain task. If you could only understand thoroughly how the human mind works, you'll realize that it is so much better if you fill the mind with positive ideas in order to create positive reality.

In this ebook I Can, Therefore I Will: Unleashing the Full Potentials of Your Mind, you will have the most essential things you need to know about the human mind and why it is better to think positively.

Check out some of the information you will find inside:
How to make new friends.
How to find out if your glass of water is half-full or half-empty.
What power is responsible for things to happen.
Why positive and negative are always in conflict.
Why the mind is considered as a super-computer.
Why the mind is compared to a mirror.
The only one who knows what will we be having on the day ahead of us.
How to efficiently deal with worries.
Why we should forgive and forget.
How the mind becomes an empowering agent.
The difference between doing a job with the body and doing a job with the mind.
How the mind sets man apart from all other creatures in this world.
The relationship between the left brain and the right brain.
How new things and challenges help in training the mind for positive thinking.
The power of negative thoughts.
The power of positive thoughts.
What the 4th basic need of man is according to Maslow's heirarchy of needs.
Where the clash of positive and negative thoughts begin.
How to find true love.
If empowerment is not simply giving authority to someone or something, then what is it?
The 2 types of thoughts the mind generates.
Why our minds should focus on the brighter things in life.
How to reach your goals in life.
How the mind becomes unbiased towards any impression.
Why we should prefer the positive power of thinking rather than the negative one.
The difference between mind and matter.
How our mind does what our five senses cannot perform well.
Why we should detach from the outcome of things.
And a lot, lot more!
ADDITIONAL INFORMATION:
eBook Format: Adobe PDF
Platform: Windows and Macintosh
Download Format: Compressed .ZIP
File Size: 679 KB
Master Resell Rights: Yes!
Private Label Rights: Yes!
Sales Page Included: Yes!
You will get an instant download of this product after purchase.