How to Tell Fortunes by Cards – $2.50
Master Resell Rights Included!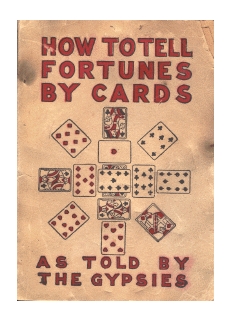 From the earliest times cards have been used for the purpose of divination. Learn the methods and meanings of telling fortunes by cards, as well dominos, dice, tea leaves and coffee grounds.
Contents include:

PART I.
1. Meanings Ascribed to the Cards
2. Curious Games with Cards Supposed to
Foretell the Future
PART II.
1. Dealing the Cards by Thirty-two
2. Mode No. I-Dealing the Cards by Threes
3. Mode No. 2-Dealing the Cards by Sevens
4. Mode No. 3-Dealing the Cards by Sixteens
5. Mode No. 4- The Twenty-one Cards
6. Mode No. 5-The Italian Method
PART III.
1. Past, Present and Future
2. Another Method of Consulting the Cards
3.The Florence Mode
PART IV.
1. Modes of Using the Whole Pack of Fiftytwo
Cards
2. Method No.1
Method No.2
Method No.3
Method No.4
The Star
Another Method of Doing the Star
3. Method No.6
Method No.7
Method No.8
Method No.9
Method No.10
Method No.11
PART V.-WISHES
1. Wish No.1
Wish No.2
Wish No.3
Wish No.4
2. Wish No.6
Wish No. 7
PART VI
Telling fortunes with tea or coffee grounds
Significance of the emblems
Days in the week children born
How tell fortunes by dominos
Dice
Physiognomy
Signs and superstition

ADDITIONAL INFORMATION:
eBook Format: Adobe PDF
Platform: Windows and Macintosh
Download Format: Compressed .ZIP
File Size: 1,738 KB
Master Resell Rights: Yes!
You will get an instant download of this product after purchase.