Solar Power: Save Your Money With Alternative Energy – $2.50
Master Resell Rights Included!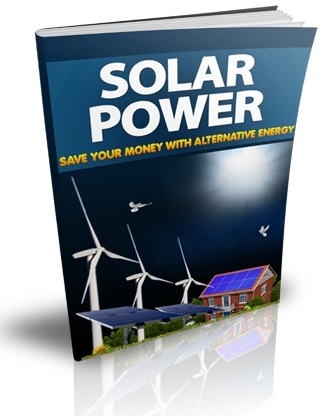 For most people, the power grid has always been the most convenient source of electricity. But there is increasing worry about the exhaustion of this type of energy which has ultimately called for the use of renewable energy sources. Solar energy has become one of the most popular types of renewable energy sources with more and more people using natural resources to power their homes.
For decades, solar power is only identified as the conversion of energy from the sun's light to electricity. While this is an accurate definition, most people do not know that the energy harvested must first be converted to electrical energy to be able to produce generally functional electricity. The conversion is made possible through the photovoltaic or PV, a method that uses semiconductors to convert the sun's radiation to electrical energy.

Solar energy is the most commercialized type of renewable energy and as a residential end-user, you will find it useful knowing just how Solar Power can benefit you. It's no secret that we all rely heavily on foreign oil and fossil fuels. Every day, we consume a significant amount of energy whether it's electric energy for lighting up a Christmas tree or using gas to cook up a storm, we are using non-renewable energy for just about everything. It's especially worrying that few people realize how much we rely on fossil fuels. Not only are these types of resources costly but there is also a danger in that we may run out of these resources which means the need to find an alternative source of energy.

That's where Solar Power comes into play … or in other words, the power of sunlight! It is a great source of energy and very efficient. The world has not yet managed to live fully independent of power companies but we can still cut our monthly bills considerably with Solar Power.

If you're really hoping to become more environmentally friendly and want to know just how Solar Energy can work for you, then this ebook will be very helpful to you. Here are some of the things you will learn in great detail which can help you realize just how Solar Energy can benefit you and the environment:
Components of a Simple Solar Power System
Benefits of Solar Power
Solar Power Technology
Uses of Solar Thermal Energy
Wind Power and other sources of energy
Solar and Wind Energy installation
Different Solar Energy products
World's Top Solar companies
Why invest in Solar Energy companies
If you feel the time is right for you to gain a real understanding and awareness of an eco-friendly environment using renewable energy sources, then this is the perfect guide for you. Start saving on your electricity bills using the power of the sun!

ADDITIONAL INFORMATION:
eBook Format: Adobe PDF
Platform: Windows and Macintosh
Download Format: Compressed .ZIP
File Size: 3.43 MB
Master Resell Rights: Yes!
Sales Page Included: Yes!
You will get an instant download of this product after purchase.