How to Eliminate Stress & Anxiety From Your Life (PLR) – $2.99
Private Label Rights Included!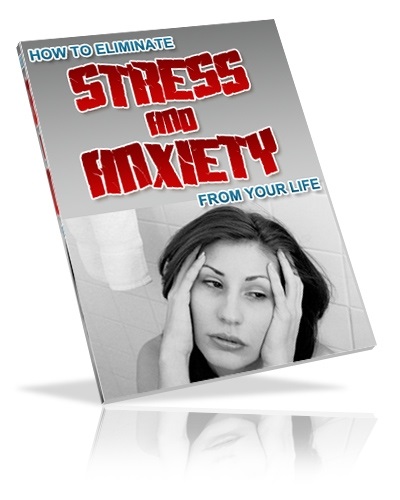 Everyone has stress. It's a fact of life. How we react to that stress can make a world of difference, though. It can literally make us healthy or unhealthy.
The statistics are staggering. One in every eight Americans age 18-54 suffers from an anxiety disorder. This totals over 19 million people! Research conducted by the National Institute of Mental Health has shown that anxiety disorders are the number one mental health problem among American women and are second only to alcohol and drug abuse by men.

Women suffer from anxiety and stress almost twice as much as men. Anxiety disorders are the most common mental illness in America, surpassing even depression in numbers. Anxiety is the most common mental health issue facing adults over 65 years of age. Anxiety disorders cost the U.S. $46.6 billion annually. Anxiety sufferers see an average of five doctors before being successfully diagnosed. There are ways that you can make stress disappear or even work FOR you instead of AGAINST you.

In this ebook, Eliminating Stress and Anxiety from Your Life, you will get a combination of expert advice from psychologists, educators, and people who suffer from excessive stress and anxiety. They can give you many, many tools to make your life easier and let you know what it's like to escape from the daily problems that can plague us.

Today, there are millions of people who suffer from too much stress. Stress causes anxiety. Anxiety causes health problems that can be debilitating. There's absolutely no reason why you have to suffer anymore.

ADDITIONAL INFORMATION:
eBook Format: Adobe PDF
Platform: Windows and Macintosh
Download Format: Compressed .ZIP
File Size: 1.31 MB
Sales Page Included: Yes!
Master Resell Rights: Yes!
Private Label Rights: Yes!
You will get an instant download of this product after purchase.