Master Resell Rights Included!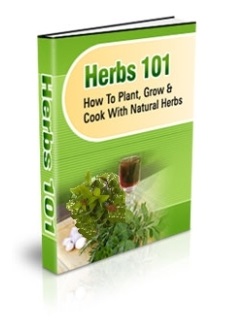 Natural herbs have been in use since the dawn of time. The Chinese have been using these flavorful weeds for everything from spicing up a favorite dish to curing allergies. Common herbs are most known for their culinary uses. There are medicinal applications for herbs as well.
The Native Americans knew the value of an herb. Whether it was to cure a toothache or cure an upset stomach, there was an herb for everything. The early uses of herbs were mainly dedicated to medicine. People discovered certain plants made the body feel better, more relaxed, or in less pain.

People are realizing that many illnesses are better treated with herbs than any other medicines. In fact, when it was discovered that many prescribed medications were based on a natural herb remedy, some people swore off medicines and started using only natural herbs.

TABLE OF CONTENTS:
Chapter 1 – Introduction To Herbs
Chapter 2 – Herbs in the Kitchen
Chapter 3 – Growing an Herb Garden
Chapter 4 – Collecting Herbs
Chapter 6 – Storing Herbs
Chapter 7 – Adding Herbs to the Cook Pot
Chapter 8 – Homemade Herbal Mixtures
Chapter 9 – Great Sources for Seeds and Plants
Chapter 10 – Resources For Dried Herbs
Chapter 11 – The Herbal Medicine Cabinet
Chapter 12 – Summary
Chapter 13 – Resources
Chapter 14 – Sample Recipes

ADDITIONAL INFORMATION:
eBook Format: Adobe PDF
Platform: Windows and Macintosh
Download Format: Compressed .ZIP
File Size: 290 KB
Master Resell Rights: Yes!
You will get an instant download of this product after purchase.