Aromatherapy Aura – $2.50
Master Resell Rights Included!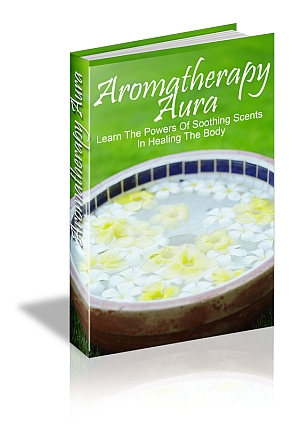 Learn the powers of soothing scents in healing the body.
Aromatherapy – a word often associated with calm, sweet smelling and relaxing surroundings. Made famous for its mostly relaxing indulgent feature, using aromatherapy has also been known to be related to have medicinal qualities.
The basis of aromatherapy is in its use of naturally garnered essential oils. These oils are usually extracted from plant material and other compounds. The flower based oils are usually for strongly aromatic users while the other sources of oils are mainly used for medicinal purposes. These oils are primarily extracted from flowers or delicate plant tissues which are already known for their various attributes.

Theoretically aromatherapy has been encouraged to be looked upon as an alternative to more invasive type of
treatments. Besides being much more pleasant as a treatment option it can sometimes even be touted as a prevention element to certain diseases.

Aromatherapy or otherwise known as essential oil therapy is a natural, gentle and noninvasive way of treating a
particular disorder. It can also be used to compliment an existing treatment regimen. Sometimes aromatherapy can
also be used as the only treatment.

ADDITIONAL INFORMATION:
eBook Format: Adobe PDF
Platform: Windows and Macintosh
Download Format: Compressed .ZIP
File Size: 5.75 MB
Master Resell Rights: Yes!
Sales Page Included: Yes!
You will get an instant download of this product after purchase.