Healthy Mind, Healthy Body – $2.50
Master Resell Rights Included!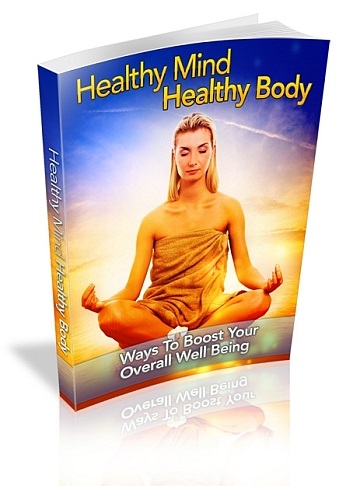 Your health and weight is decided by your eating habits. Your social habits bear upon your relationship with others. Your sleeping habit dictates how well you rest. Your working habits bear upon your success. The way you accomplish things, and the things you do daily are all related to your habits.
If you ask individuals what's the significance of habit, many will say they're negative processes that individuals do again and again, like smoking, gambling, over eating, and procrastination.

We recognize foul habits produce damaging benefits, poor relationship and bear upon your life negatively. What if we can add favorable habits to our life? What is a favorable habit, you ask? A favorable habit is merely a habit that produces favorable benefits, attitudes and actions you would like to gain and make a part of your life.

Why is there such great power in favorable habits to bring about change in our life? Because by their very nature, habits are machinelike. After a time period they may become permanent. A habit becomes a voluntary process and in turn develops into an assumed behavior pattern that becomes part of you. Foul habits and healthy habits are subconscious behaviors forged through repetition.

In this ebook, you will learn about:
How To Get Rid Of Your Bad Habits
Eating Healthy
Detox
Use More Herbs
Use Natural Cleaning Products
Enjoy Exercise
And Much More …
If you're discovering that you're your own worst enemy it's time to make an alteration and be more kind to yourself. You'll feel more contented and the favorable changes will likewise impact those around you.

ADDITIONAL INFORMATION:
eBook Format: Adobe PDF
Platform: Windows and Macintosh
Download Format: Compressed .ZIP
File Size: 736 KB
Sales Page Included: Yes!
Master Resell Rights: Yes!
You will get an instant download of this product after purchase.