The Self-improvement Handbook – $2.50
Master Resell Rights Included!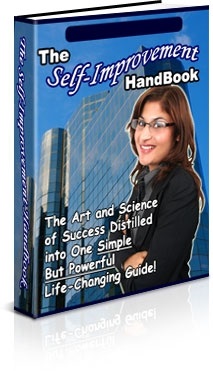 Everything that happens to us happens in purpose. And sometimes, one thing leads to another. Instead of locking yourself up in your cage of fears and crying over past heartaches, embarrassment and failures, treat them as your teachers and they will become your tools in both self-improvement and success.
We should always remember that there's no such thing as 'over night success'. Its always a wonderful feeling to hold on to the things that you already have now, realizing that those are just one of the things you once wished for. A very nice quote says that, "When the student is ready, the teacher will appear." We are all here to learn our lessons. Our parents, school teachers, friends, colleagues, officemates, neighbors … they are our teachers. When we open our doors for self-improvement, we increase our chances to head to the road of success.

Table of Contents:
Self-improvement & Success – Hand in Hand
The Importance of Improving Yourself
Building Your Self-Esteem
Spiritual Growth: the Spiritual Challenge of Modern Times
Motivation: The Heart of Self-Improvement
Unlocking Your Self Improvement Power
Crash Course: 7-Day Program to Self-Improvement
10 Inspirational Self-Improvement Quotes
ADDITIONAL INFORMATION:
eBook Format: Adobe PDF
Platform: Windows and Macintosh
Download Format: Compressed .ZIP
File Size: 560 KB
Master Resell Rights: Yes!
You will get an instant download of this product after purchase.