Healing: Spiritual Techniques for Healing the Body – $2.50
Master Resell Rights Included!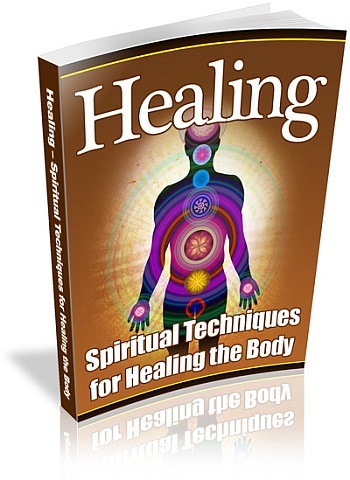 Spiritual healing is the ability of your mind and soul to repair your ailments. These ailments are not limited mere physical wounds, but can also relate to mental illness and self esteem issues. Many modern day physicians invoke the idea of spiritual healing along with western medicine as a means to promote the health of their patients. The belief that a healthy mind equals a healthy body is not new to anyone. However, the idea that a positive spiritual existence might heal the body is sometimes misunderstood.
True spiritual healing requires work on ones self. It requires you to figure out how to get your body and energy into focused balance. The connection between the mind and the spirit can not be denied. Those who have tried any form of spiritual healing have quickly learned that they feel better physically when they have handled their emotional well being first.

A spiritual journey can be anything you want it to be. Some people find that faith healers and extreme measures give them the state of consciousness they require to feel better. Others may find that simple things like Yoga classes and meditation works for their needs. It does not really matter which avenue you choose to heal your soul what matters is the healing that takes place.

If you are physically sick you may want to research which types of spiritual healing have helped others with your specific affliction. For example, some people have found great help overcoming pain through meditation and yoga. Others who face depression and stress may find that they way to healing for them is through a spiritual guide who can help them on their journey to connect with the spirit world.

There are many kinds of spiritual healing available, all you have to do is find the one that works for you. It is all right to start small, get your toes wet until you feel comfortable moving further on your spiritual journey. If any part of it or any particular group makes you feel uncomfortable move on to another group. There is no specific guide that works best for everyone because it is such a deeply personal experience.

Along your journey you will find that you did not know yourself as well as you thought you did. You might also find that old wounds, both physical and emotional, had not healed as much as you let yourself believe they had. You will also probably be surprised to find how much better you feel once your spirit has connected with your body and soul and a more complete way then you had previously experienced.

Table of Contents:
What Is Spiritual Healing?
History of Spiritual Healing
Shamanism
Altered Mental State Healing
Yoga
The Chakras
Conclusion
ADDITIONAL INFORMATION:
eBook Format: Adobe PDF
Platform: Windows and Macintosh
Download Format: Compressed .ZIP
File Size: 974 KB
Master Resell Rights: Yes!
You will get an instant download of this product after purchase.