Excellent Living Affirmation – $2.50
Master Resell Rights Included!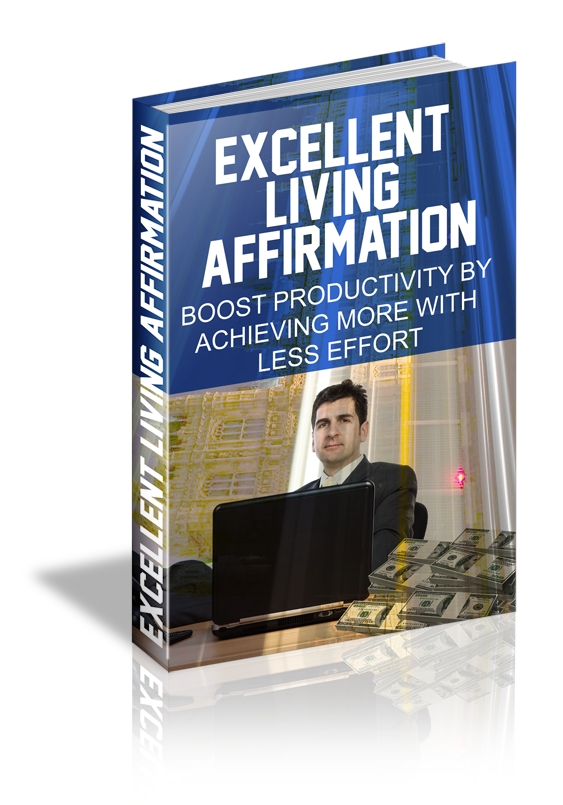 It's near impossible to have optimal living without the right type of mindset and tools. It doesn't matter what type of health you have now. There's a certain way of thinking that you must have, and this type of thinking is what will give you the discipline to take action. Taking action is the most crucial part of optimal living, and positive thoughts are called for to take major action.
Through this special imagery a person can develop the inner tools for the correct mindset for optimal living, letting the memories and images be transported to the here and now where they're used for enhancing mindset which is crucial for health and wellness.
These forms of affirmations make fresh neural tracts in the mind, enhancing the ability to "see" these fresh powerful images. Stale images related to negativity, weaknesses, deficiency of initiative, frail goal images and the ability to acquire health and wellness plan are decreased. When the mind discovers new affirmations the subconscious sees them as "tangible."
Affirmations are simple to create and utilize, but you'll need dedication to make them work. Here you will find some tips to assist you in getting the most out of these mighty tools to gain optimal living.
This ebook includes the following chapters:
Chapter 1:
Why Affirmations Are Important For Optimal Living
Chapter 2:
How To Use Affirmations Effectively For Optimal Living
Chapter 3:
How To Get The Ball Rolling
Chapter 4:
Optimal Life Affirmation
Chapter 5:
Weight Loss Affirmation
Chapter 6:
Better Life Overall Affirmation
Chapter 7:
Eating Right Affirmation
Chapter 8:
De-stress Affirmation
ADDITIONAL INFORMATION:
eBook Format: Adobe PDF
Platform: Windows and Macintosh
Download Format: Compressed .ZIP
File Size: 2.86 MB
Sales Page Included: Yes!
Master Resell Rights: Yes!
You will get an instant download of this product after purchase.