Your Complete Guide to Yoga – $2.50
Master Resell Rights Included!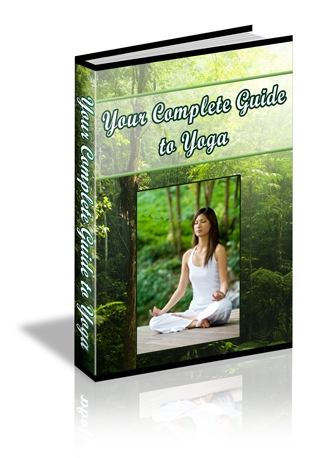 All you need to know about Yoga including how to become a yoga instructor to how to set up your home yoga exercise room. One of the most popular types of yoga is Hatha Yoga. It is the best style for beginners to learn as it incorporates all the basic moves of yoga.
In modern society stress is rampant and this leads to people having to deal with more health problems both mental and physical. Unfortunately our food is not as fresh or wholesome as it once was. Even the air we breathe is more polluted. On top of this most people are less active than before and this leads to obesity in all age groups and genders. The reason why yoga is increasing in popularity is because it is beneficial for the whole body. In addition to improving the way your body looks, yoga can help you relax and heal your mind.

Yoga is easily known as the all in one exercise. It can be a spiritual passageway as well if you desire to follow this path. But it is the holistic qualities that are excellent for all people regardless of their background. Many doctors have seen the benefits of yoga when it comes to dealing with stress. It is perfect for anyone wanting to learn how to regain that balance between your working and your personal life. So much so that many large corporations are including yoga and other exercises classes for their employees.

Did you know that there are actually nine basic styles of yoga? You will find an overview of each of the different styles of yoga which you can learn. There are many types of yoga styles around and reading about each one can be a little confusing. What you want to remember is that all yoga styles are based on the same yoga poses or postures. If you are purely looking for a great workout or to lose weight quickly, then the Power and Hot Yoga classes would be your best choice. If you wish to learn how to use meditation to relieve stress then choose Yin Yoga or a form of yoga that uses these techniques. When you have the basic yoga poses down then you can start adding additional movements. At this time you can start including some form of yoga meditation if you wish. Many people like to include this at the end of their yoga session. Meditating helps you to relax and rejuvenates your body before heading back to your daily schedule.

In fact yoga could be looked at as a self healing method. Of course it takes time to learn these techniques correctly but even with basic knowledge you can improve your health. It is also safe to say that our actions in the past determine our future. So if you can learn how to improve these things you could technically look forward to a brighter future.

ADDITIONAL INFORMATION:
eBook Format: Adobe PDF
Platform: Windows and Macintosh
Download Format: Compressed .ZIP
File Size: 15.7 MB
Master Resell Rights: Yes!
Sales Page Included: Yes!
You will get an instant download of this product after purchase.