Aradia, or the Gospel of the Witches – $2.50
Master Resell Rights Included!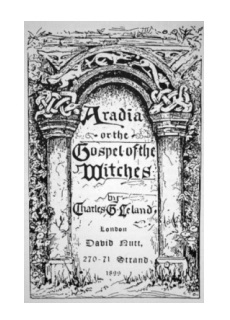 This eBook contains fifteen chapters, many devoted to magic spells, blessings and rituals. You will also find stories about traditional witchcraft and myths and folktales, and learn about the beginning of the witchcraft religion, how to cast various spells (such as Love Spells), and more.
Contents:

Chapter I. How Diana Gave Birth to Aradia
Chapter II. The Sabbat: Treguenda or Witch-Meeting: How to Consecrate the Supper
Chapter III. How Diana Made the Stars and the Rain
Chapter IV. The Charm of the Stones Consecrated to Diana
Chapter V. The Conjuration of the Lemon and Pins
Chapter VI. A Spell To Win Love
Chapter VII. To Find or Buy Anything, or to Have Good Fortune Thereby
Chapter VIII. To Have a Good Vintage and Very Good Wine by the Aid of Diana
Chapter IX. Tana and Endamone, or Diana and Endymion
Chapter X. Madonna Diana
Chapter XI. The House of the Wind
Chapter XII. Tana, The Moon-Goddess
Chapter XIII. Diana and the Children
Chapter XIV. The Goblin Messengers of Diana and Mercury
Chapter XV. Laverna
Appendix: Comments on the Foregoing Texts
The Children of Diana, or How the Fairies Were Born
Diana, Queen of the Serpents, Giver of the Gift of Languages
Diana as Giving Beauty and Restoring Strength

ADDITIONAL INFORMATION:
eBook Format: Adobe PDF
Platform: Windows and Macintosh
Download Format: Compressed .ZIP
File Size: 822 KB
Master Resell Rights: Yes!
You will get an instant download of this product after purchase.