1,000 Vegetarian Recipes – $2.50
Master Resell Rights Included!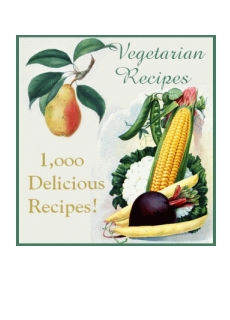 This 230-page ebook contains 1,000 delicious vegetarian recipes, such as:
ARTICHOKE SOUP
CELERY CROQUETTES
APPLE CHARLOTTE
VEGETABLE STEW
SWEET CORN FRITTERS
APRICOT PUDDING
CHESTNUT PIE
CURRY SAVOURY
LENTIL RISSOLES
SPINACH DUMPLINGS
MUSHROOM TARTLETS
LENTIL TURNOVERS
SPANISH STEW
TOMATOES AU GRATIN
VEGETABLE BALLS
MACARONI SAVOURY
PORTUGUESE RICE
FRENCH BEAN OMELET
SPANISH SALAD
HERB SAUCE
ALMOND PUDDING
CHOCOLATE TRIFLE
MARLBOROUGH PIE
OATMEAL PORRIDGE
VERMICELLI RISSOLES
And 975 More!

ADDITIONAL INFORMATION:
eBook Format: Adobe PDF
Platform: Windows and Macintosh
Download Format: Compressed .ZIP
File Size: 1,078 KB
Master Resell Rights: Yes!
You will get an instant download of this product after purchase.