Affirmative Prayer: Taking Your Wishes To A Higher Level – $2.50
Master Resell Rights Included!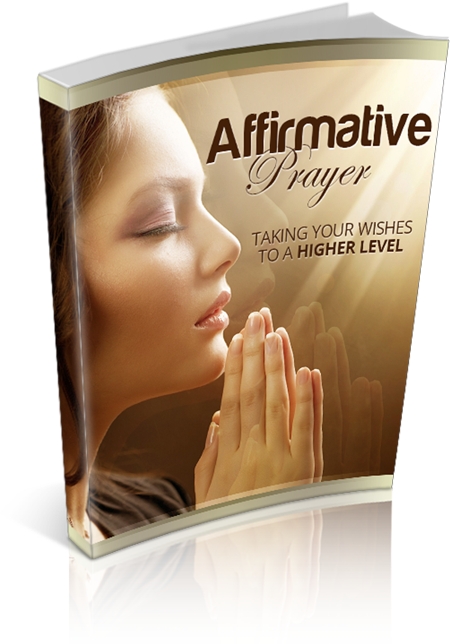 Connecting with the Spirit of The Higher Power
Prayer is an invocation or act that attempts to spark a rapport with a deity, an object of worship, or a spiritual entity through willful communication. Prayer may be a sort of religious practice, might be either individual or done in groups and happen in public or in private.
Prayer might involve the utilization of words or song. If language is utilized, prayer might take the form of a hymn, incantation, formal creed, or a spontaneous vocalization in the praying individual.
There are assorted forms of prayer like petitioner prayer, prayers of supplication, thanksgiving, affirmative and worship/praise. Prayer might be directed toward a deity, spirit, deceased individual, or lofty idea, for the purpose of worshiping, requesting counsel, calling for assistance, confessing sins or to express one's thoughts and emotions. Thus, individuals pray for a lot of reasons like personal benefit or for the sake of others. Yoga is likewise a common form of prayer as well as affirmative prayer.
Assorted spiritual traditions provide a wide assortment of devotional acts. There are break of day and evening prayers, graces stated over meals, and worshipful physical gestures. A few Christians bow their heads and fold their hands. A few Native Americans see dancing as a sort of prayer. Hindus chant mantras. Judaic prayer will involve swaying to and fro and bowing. Muslims practice salah (kneeling and prostration) in their prayers. Quakers remain silent. A few pray according to standardized rituals and liturgies, while other people prefer extemporary prayers. Still other people blend the two.
Some people use "affirmative prayer." Instead of imploring or beseeching The Higher Power, this method involves connecting with the spirit of The Higher Power inside and asserting positive beliefs about the wanted outcome.
This ebook includes the following chapters:
Chapter 1:
Introduction
Chapter 2:
What Is Affirmative Prayer
Chapter 3:
Deciding What To Pray About
Chapter 4:
How Affirmative Prayer Works
Chapter 5:
Getting In The Right Mindset
Chapter 6:
Negative Mindset In Prayer
Chapter 7:
What If Doubts Arise
Chapter 8:
Affirmative Prayer Exercises
Chapter 9:
Advantages And Disadvantages
Chapter 10:
Conclusion



ADDITIONAL INFORMATION:

eBook Format: Adobe PDF
Platform: Windows and Macintosh
Download Format: Compressed .ZIP
File Size: 1.85 MB
Sales Page Included: Yes!
Master Resell Rights: Yes!

You will get an instant download of this product after purchase.