The Golden Age Vegetarian Cookbook – $2.50
Master Resell Rights Included!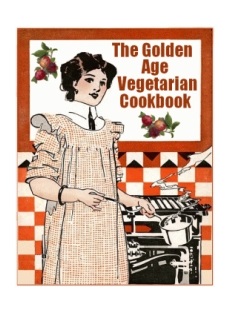 Thou shalt not kill.—Exodus xx., 13.
From the Introduction:

"I send this little book out into the world, first, to aid those who, having decided to adopt a bloodless diet, are still asking how they can be nourished without flesh; second, in the hope of gaining something further to protect "the speechless ones" who, having come down through the centuries under "the dominion of man," have in their eyes the mute, appealing look of the helpless and oppressed. Their eloquent silence should not ask our sympathy and aid in vain; they have a right, as our humble brothers, to our loving care and protection, and to demand justice and pity at our hands.

That flesh-eating is not necessary to the perfect health of man is attested by many scientists…."

Here, in this 199-page cookbook, you will discover hundreds of vegetarian recipes, from breads, rolls and biscuits; stews, soups, and sauces; as well as many Mexican and Italian dishes. There are also recipes for jams and jellies, puddings, cakes, and pies, and much, much more…

ADDITIONAL INFORMATION:
eBook Format: Adobe PDF
Platform: Windows and Macintosh
Download Format: Compressed .ZIP
File Size: 1,538 KB
Master Resell Rights: Yes!
You will get an instant download of this product after purchase.