Ways to Inner Peace – $2.00
Master Resell Rights Included!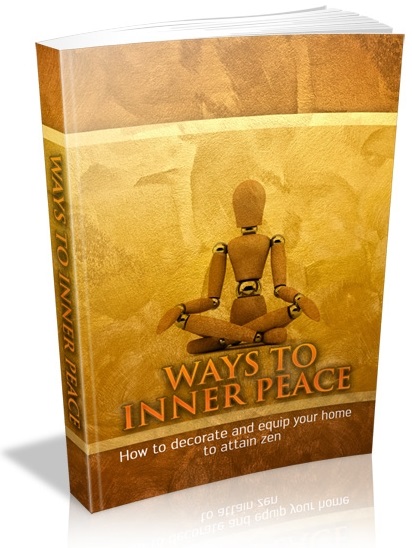 Learn how to decorate and equip your home to attain Zen … Individuals wish to feel calm and balanced in their day-to-day lives. And as your home ought to be a warm, comfy place to relax, it's the best place to produce the balanced, peaceful atmosphere you're desiring. Zen implies meditation in Japanese. Not astonishingly decorating Zen style is a crucial element of Japanese home decoration. It's more than a word however. Zen reverberates balance, harmony and relaxation.
There are no such things as Zen couches or tables. It's not a design fashion, but a way of formatting your home and producing an atmosphere that offsets the strains and hassle of your daily routine. It's about being worry-free and being able to "live" in your home. In this ebook, you'll learn the home decorating tips that you require to put this into practice.

A person's house may be a reflection of one's frame of mind. And at the same time, having a clean, nicely adorned and well organized home may help the mind to be more centered and clear. It may take a good deal of effort, but the procedure and end result will be rewarding. Zen interior decorating will turn your home base into a place of calming tranquility and respite from the haste and hum of the outside world.

ADDITIONAL INFORMATION:
eBook Format: Adobe PDF
Platform: Windows and Macintosh
Download Format: Compressed .ZIP
File Size: 1.25 MB
Master Resell Rights: Yes!
Sales Page Included: Yes!
You will get an instant download of this product after purchase.