Thought-Force In Business & Everyday Life – $2.50
Master Resell Rights Included!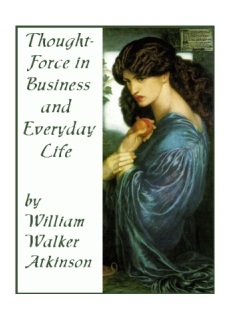 In this ebook some of the topics covered include:
The force not magnetic in its nature – Subtle current of thought waves – Thoughts are things – Our thoughts affect ourselves as well as others – Change of appearance following change of occupation – Thought the greatest force in the world – "I can and I will" vs. "I can't" – Practical instruction not transcendental discourse – Fear thought the root of injurious thinking – The three great methods – Direct suggestion – Thought waves – What is suggestion? – The Dual Mind – Hypnotic Suggestion – The Active and Passive functions – and much more.

From the ebook:

"That which we call Personal Magnetism is the subtle current of thought-waves, or thought-vibrations, projected from the human mind. Every thought created by our minds is a force of greater or lesser intensity, varying in strength according to the impetus imparted to it at the time of its creation. When we think, we send from us a subtle current, which tables along like a ray often far removed from us by space, a forceful thought will go on its errand charged with a mighty power, and will often bear down the instinctive resistance of the minds of others to outside impressions, whilst a weak thought will be unable to obtain an entrance Trance to the mental castle of another, unless that castle be but poorly guarded. Repeated thoughts along the same lines sent one after the other, will- often effect – an entrance where a single thought-wave, although much stronger, will be repulsed. It is an exhibition of a physical law in the Psychical world, and exemplifies the old saying about steady dripping wearing away a stone.

A man who thinks Energy manifests Energy. The man, who thinks Courage manifests courage. The man who thinks, "I can and I will," "gets there", while the "I can't" man "gets left." You know that to be true. Now, what causes the difference? Thought – just plain thought. But why? – Just because it cannot help itself. Action follows as the natural result of vigorous thinking. You think in earnest, and action does the rest. Thought is the greatest thing in the world. If you do not know it now, you will before you are through with this course of lessons. You may say that this is no new thing to you – that you know all about "making up your mind," and all that sort of thing, long ago. Then why did you not put it into practice and make something of yourself? I will tell you the trouble. You thought "I Can't" instead of "I Can." Now, I am going to change that "I Can't" into a big "I Can" and a bigger "I Will." That is what I am here for, and I intend to "make you over," before I am through with you."

ADDITIONAL INFORMATION:
eBook Format: Adobe PDF
Platform: Windows and Macintosh
Download Format: Compressed .ZIP
File Size: 497 KB
Master Resell Rights: Yes!
You will get an instant download of this product after purchase.