Striking the Balance Between Your Physicality & Spirituality – $2.50
Master Resell Rights Included!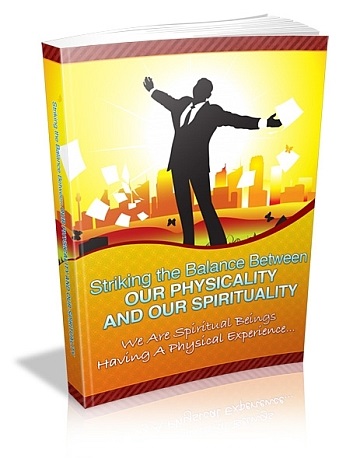 "The secret of health for both mind and body is not to mourn for the past, not to worry about the future, or not to anticipate troubles, but to live in the present moment wisely and earnestly." — Buddha
Our spirituality and our physicality are the two components of which we are made. If we could strike the right balance between the concrete and the abstract parts of our being, we could definitely turn ourselves into better people.
Man is a complex compound. He is made up of one part mind and one part matter. When the two parts are harmoniously joined, he sparkles like a diamond with the joy of life. But when the two parts conflict or are unbalanced, the result is a dismal lump of coal.

We tend to forget that we are not physical beings having a spiritual experience, but spiritual beings undergoing a physical experience. The spiritual being needs the human body to explore life to the fullest and to propagate life on earth. And the material body seeks the spirit to motivate it higher, beyond the baser instincts of animals.

A balance has to be struck between our physicality and our spirituality. There are many ways and aspects to this quest. In this eBook, we will explore the techniques of Yoga, Qigong, Zen Buddhism and other forms of meditation to quell the mind and bring harmony to the body.

Welcome to a journey of self exploration, where we travel at the interface of mind and matter!

Table Of Contents:

Chapter 1:
The Right Balance

Chapter 2:
The Three Pillars of Life

Chapter 3:
What Disturbs the Balance

Chapter 4:
Laughing on the Tightrope

Chapter 5:
Money and the Soul

Chapter 6:
Toward a Spiritual Sexuality

Chapter 7:
The Power of Prayer

Chapter 8:
Oriental Methods of Achieving Balance

Chapter 9:
Achieving Balance through Yoga

Chapter 10:
Feeding Your Soul

ADDITIONAL INFORMATION:
eBook Format: Adobe PDF
Platform: Windows and Macintosh
Download Format: Compressed .ZIP
File Size: 832 KB
Master Resell Rights: Yes!
You will get an instant download of this product after purchase.