Secrets of Becoming a Meditation Expert – $2.00
Master Resell Rights Included!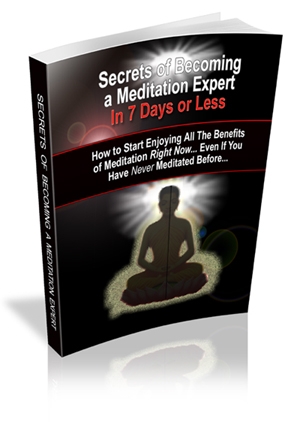 Meditation can help you to: reduce stress and be more relaxed, therefore enjoy life more; achieve more mental clarity, better memory and recall; increase creativity and improve problem-solving ability; bring your body into balance, improve overall health, normalize blood pressure, etc.; improve your overall physical appearance, skin tone, muscle relaxation, etc.; be (and appear) more confident, calm, and thus in control … and lots more wonderful stuff.
And, if you're interested in going a little deeper, meditation can also help you to become more in touch with who you really are. In other words, it can help you find and know who you really are. Not what the world has told you — or is telling you — that you are, or what others think, believe or want you to be. But, who you really, truly are. You get to connect with your essence. And, as such, you start to align more with your true purpose, and with life itself.

The true purpose of meditation is to simply be. Without any expectations or hopes about what you'll get or where you'll end up. And, it is to realize that where it eventually takes you is not important. Also, how you get to wherever you go isn't really important either. And ultimately, how long it takes you to get there is also not that important. It's what you're doing — or not doing, really — while you journey to that place, and even when you do reach that place … wherever that may be. So, the true purpose of meditation is to simply practice it often. Practice sitting in stillness and just being.

ADDITIONAL INFORMATION:
eBook Format: Adobe PDF
Platform: Windows and Macintosh
Download Format: Compressed .ZIP
File Size: 792 KB
Master Resell Rights: Yes!
Sales Page Included: Yes!
You will get an instant download of this product after purchase.