Natural Sounds, Volume 12: Log Cabin Fire (MP3 Audio) – $3.95
Master Resell Rights Included!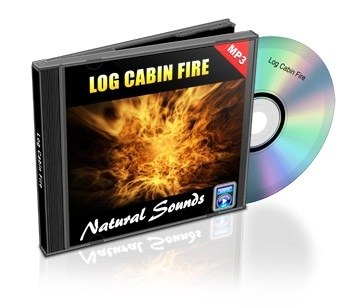 Hear the sound of the logs crackle and spit as they burn. Snuggle up on the rug and stare deep into the fire as the flames warm you and conjure up magical dancing pictures before your eyes …
Make money selling this Natural Sounds audio program. You'll have the legal right to duplicate this one-hour relaxation / meditation audio file onto CD or offer it to your customers as a downloadable file from your web site. You'll earn 100% of the profits on every sale! This audio file is ideal to sell to your New Age customers, hypnotherapists and other therapy practices, or even use for your own enjoyment and relaxation. Also great to listen to while doing yoga or massage.

This fantastic audio program package includes:
The 1-Hour MP3 File entitled: LOG CABIN FIRE
Full Master Resell Rights License
Professionally-Designed Ecover
Buy this product once, and sell if forever. No limit to how many times you can duplicate it. Charge any price you want and keep 100% of the profits.

ADDITIONAL INFORMATION:
Format: MP3 File (Running Time: 60 Minutes, 04 Seconds)
Platform: Windows and Macintosh
Download Format: Compressed .ZIP
File Size: 133 MB
Master Resell Rights: Yes!
You will get an instant download of this product after purchase.