Meditation for Peace – $2.50
Master Resell Rights Included!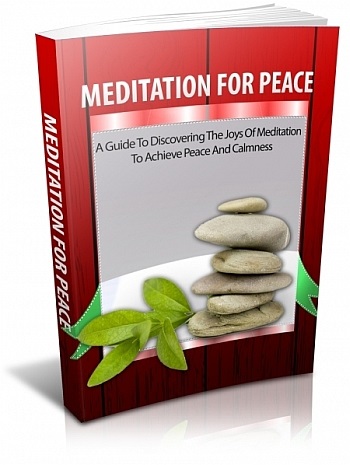 Meditation is basically the process of bringing peace and calmness into one's life, but most people have misconceptions about the procedures of meditation. Meditation doesn't mean that you will have to sit for 4 to 5 hours, compromising other essential everyday activities. This eBook will help you in breaking some of the odd misconceptions regarding meditation. If you are able to break your misconceptions, you will be able to get full advantage from different techniques of meditation.
People use different techniques to achieve different goals through Meditation. Meditation is deep rooted in Asia, and countries like China, India and Japan have been practicing it for thousands of years. Tribes in South India had developed Tantric Meditation about 15 thousand years back. Taoists started practicing meditation during 500 to 600 BC. Buddhists also started using meditation in the same era. In history, Buddha is one of the greatest promoters of meditation. He was the one to teach meditation in Asia during 500 BC. Buddha has introduced the basic forms of meditation, and all the world adapted and transformed these meditation techniques according to their needs and purposes.

If you want to take full advantage of meditation, you will need to follow the techniques as much as you are capable of. This eBook will give you the knowledge of meditation, and show you the maximum benefits you can receive from this ancient practice.

This eBook includes the following chapters:
Chapter 1:
Understanding Meditation
Chapter 2:
Learning Meditation
Chapter 3:
Hindrances in the Way of Meditation and their Solutions
Chapter 4:
Impacts of Meditation
Chapter 5:
Transcendental Meditation
Chapter 6:
Walking Meditation
Chapter 7:
Mindfulness Meditation
Wrapping Up
ADDITIONAL INFORMATION:
eBook Format: Adobe PDF
Platform: Windows and Macintosh
Download Format: Compressed .ZIP
File Size: 1.33 MB
Sales Page Included: Yes!
Master Resell Rights: Yes!
You will get an instant download of this product after purchase.