Living On Purpose: Creating Your Own Path And Destiny – $2.50
Master Resell Rights Included!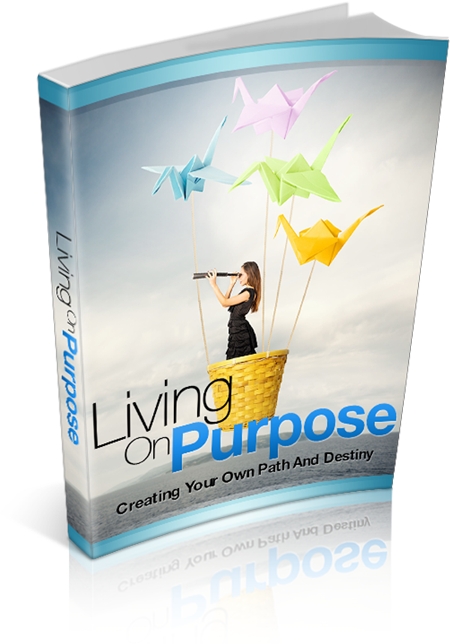 Are you the one who controls your life or is your life controlling you? Which road should you take? Do you know which path will lead you to where you really want to be?
Creating and shaping your own destiny is one of the many things that only a handful of persons can successfully do, while most end up aimlessly cruising through life, hoping that one day, their predetermined fate will step in and lady luck will shine on their lives.
If you want to live with purpose, the first thing that you have to do is to know remember that more than anyone or anything else, it is only you who have the sole power of creating the destiny that you have defined. It is you who have the ability of preparing for the opportunities that are bound to come your way. It is you who make things happen. You do not just put your trust on fate. Creating your own path and destiny is actually all up to you. That is the foremost thing that you need to keep in mind if you really want to live a life with purpose.
To find a new direction, you need to search for proper guidance and gain support for new learning for it is only through this that you will get to discover the authenticity of your life.
Living on purpose requires you to be clear about your own personality. You need to know what values you uphold and identify your passions, strengths and weaknesses, all of which should be aligned as you claim your life's purpose together with the intention of serving greater good and meeting humanity's needs.
This ebook includes the following chapters:
Chapter 1:
Living On Purpose Basics
Chapter 2:
Figuring Out What You Want Your Life To Look Like
Chapter 3:
Making Goals And Sticking To Them
Chapter 4:
How Living On Purpose Works
Chapter 5:
Getting In The Right Mindset
Chapter 6:
The Difference Between Positive And Negative Mindset In Creating Your Path
Chapter 7:
How Important Is It To Stick With It
Chapter 8:
How To Make Things Happen
Chapter 9:
Advantages And Disadvantages
Chapter 10:
Conclusion
ADDITIONAL INFORMATION:
eBook Format: Adobe PDF
Platform: Windows and Macintosh
Download Format: Compressed .ZIP
File Size: 2.00 MB
Sales Page Included: Yes!
Master Resell Rights: Yes!
You will get an instant download of this product after purchase.