How to Eat Right and Manage Your Life – $2.50
Master Resell Rights Included!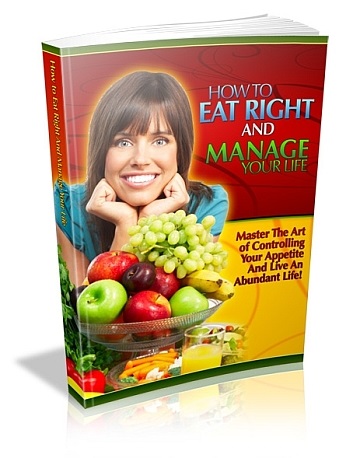 Are you eating just to whet your appetite or to satiate your taste buds? Or are you eating in order to take better control of your life?
Our health is an indicator of what we eat. The sorry condition that we are living in is not an individual problem; it is a global problem. The world as a whole is eating wrong. Just check these facts out – 6 in every 10 persons in the US is overweight, and the number is going to be 8 in every 10 persons by the time we hit 2015. The US, the largest economy in the world, is spending close to $147 billion a year on healthcare due to various obesity-related issues. And this situation is true with most of the so-called developed nations of the world.

The first thing is awareness. We have to learn what foods are right for us and what are not. We have to understand what the nutrients are that your body really wants and in what measure. Then we have to work up a dietary regimen for ourselves and our family so that we eat healthier. We must cut down on all the foods that are harmful – the carbohydrates, the fats, the sugars, we don"t really want them – and incorporate foods that can boost our health.

In this eBook, we show you how you can make your life much more optimal just by making sure that you eat right.

CONTENTS:

Chapter 1:
Why We Face Health Problems Today

Chapter 2:
The Solution

Chapter 3:
What Is an Ideal Diet?

Chapter 4:
Benefits of Eating Right

Chapter 5:
Losing Weight by Eating Right

Chapter 6:
Eating Right Is Not the Only Thing

Chapter 7:
Managing Food, Family and Friends

Chapter 8:
Your Motivations for Eating Right

Chapter 9:
How Not to Become Obsessive about Eating Right

Chapter 10:
Eating Right and Managing Your Life

ADDITIONAL INFORMATION:
eBook Format: Adobe PDF
Platform: Windows and Macintosh
Download Format: Compressed .ZIP
File Size: 832 KB
Master Resell Rights: Yes!
You will get an instant download of this product after purchase.