Living An Inspired Life – $2.50
Master Resell Rights Included!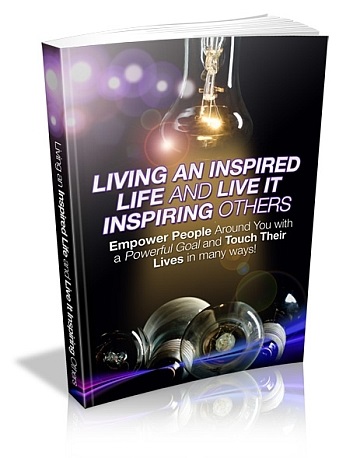 What is meant by an inspired life? Is an inspired life lived only by saints and prophets? Is inspired living the sole domain of Enlightened Ones?
An archaic meaning of the word "inspire" is "to breathe life into"! So Inspiration implies a breathing in of life, as well as to give life to others. For ordinary individuals and for everyday life, it means breathing in and out better. Simply put – Living Better.

To live an inspired life is to walk with an enhanced awareness of everyone and everything around you, to see divinity and delight in everyday people and events, and to infuse your environment with the same magical energy.

There are two aspects to inspiration – being inspired and inspiring others. The first of these enriches us and the second helps us enrich others. In this eBook, we shall learn how we can go about achieving both these results – how we can be inspired and how we can inspire others.

Table Of Contents:

Chapter 1: Living an Inspired Life
Chapter 2: Qualities for Inspired Living
Chapter 3: Gardener of the Mind
Chapter 4: How to Inspire
Chapter 5: Simple Ways to Re-Inspire You
Chapter 6: Your Hidden Cheerleader
Chapter 7: The Chain of Inspiration
Chapter 8: Filling the Creative Well
Chapter 9: Inspirational Speakers in Cyberspace
Chapter 10: Inspiration for Creative Artists

ADDITIONAL INFORMATION:
eBook Format: Adobe PDF
Platform: Windows and Macintosh
Download Format: Compressed .ZIP
File Size: 736 KB
Sales Page Included: Yes!
Master Resell Rights: Yes!
You will get an instant download of this product after purchase.