Learn To Read Tarot Cards – $5.95
Master Resell Rights Included!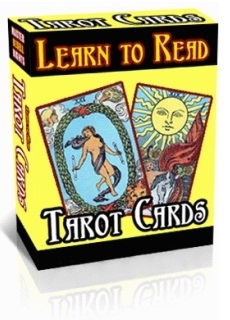 Never pay for a tarot card reading again. In this
210-page eBook
, we will show you everything you need to know. You'll be able to do Tarot Card readings for yourself, your family and friends, and even paying clients. You don't need psychic ability or any connection to the spirit world. All you need is the proper education to show you how to interpret the symbolism the cards in various layouts. It is easier than you think.
The Ancient Art of Tarot Card Reading
People have been reading Tarot Cards for centuries, believing in their messages, prophecies, and lessons. Why has this art form and the curiosity surrounding it lasted so long? Why do people continue to rely upon Tarot Cards today? We are an industrial society that seeks answers through science and mathematics, no longer a world that relies upon stars, symbols, and religions to provide answers for us. Perhaps it is this very reason that we as a people are so interested in the Tarot — because we realize science cannot answer all questions — that is there is some greater, unexplainable force that indeed plays a hand in daily events, sight unseen.

Learn to Read the Symbols within the Tarot … The nature of Tarot Cards is not to provide direct "yes" or "no" answers; it is not a Magic 8 Ball. A Tarot Card reading, instead, delves deeply into issues surrounding the Asker's main questions, providing a symbolism that must be interpreted for each individual. Each Tarot Card represents a different facet of a human's life, and its placement within the Tarot Spread lends more significant direction on how to interpret the Card itself and in conjunction with its surrounding Cards.

Thus, learning Tarot Cards DOES take practice and the Reader needs to be equipped with the true meanings of each Card and how it relates to the other Cards. While performing the Reading, if the Reader misinterprets a Card's symbolism, it can do much damage to the Asker, as it will lead them down a path that is not correct. One can just imagine the implications of a Reader somewhat off-handedly misrepresenting the Death card!

With Learn to Read Tarot Cards, you will be equipped with all the proper information, history, symbolism, and histories of each Card and how to properly interpret a Tarot Card Spread. Each Card is individually showcased and discussed to provide you with the most information possible in order to do a proper Reading. Learn to Read Tarot Cards breaks everything down for you so that you will easily be able to learn all you need to be an expert Tarot Card Reader. If you order this incredible package today, you'll receive in-depth studies within its chapters, such as …
THE TAROT IN HISTORY
THE TAROT AND SECRET TRADITION
THE TRUMPS MAJOR AND THEIR INNER SYMBOLISM
CONCLUSION AS TO THE GREATER KEYS
THE OUTER METHOD OF THE ORACLES
DISTINCTION BETWEEN THE GREATER AND LESSER ARCANA
THE SUIT OF WANDS
THE SUIT OF CUPS
THE SUIT OF SWORDS
THE SUIT OF PENTACLES
THE GREATER ARCANA AND THEIR DIVINATORY MEANINGS
SOME ADDITIONAL MEANINGS OF THE LESSER ARCANA
THE RECURRENCE OF CARDS IN DEALING
THE ART OF TAROT DIVINATION
AN ANCIENT CELTIC METHOD OF DIVINATION
READING THE TAROT CARDS
NOTES ON THE PRACTICE OF DIVINATION
THE METHOD OF READING BY MEANS OF THIRTY-FIVE CARDS
AND MUCH, MUCH MORE!
Learn to Read Tarot Cards uses the most popular Tarot Card Deck, The Rider-Waite, as its basis, so it works best with that Deck, as the illustrations and pictures correspond.

ADDITIONAL INFORMATION:
eBook Format: Adobe PDF
Platform: Windows and Macintosh
Download Format: Compressed .ZIP
File Size: 4.54 MB
Sales Page Included: Yes!
Master Resell Rights: Yes!
You will get an instant download of this product after purchase.