Learn the Guitar: Beginners Guide (PLR) – $2.99
Private Label Rights Included!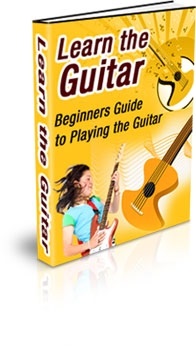 Like all musical instruments, if you want to learn to play the guitar you will need plenty of practice, perseverance and patience. Learning to play the guitar will be very rewarding experience if you stick with it — the guitar can give you many hours of enjoyment.
Learning something is always difficult at first so do your best not to get frustrated if your fingers hurt, the guitar goes out of tune, if your neighbors begin complaining or if you don't sound great right away. All guitar heroes had to begin where you are right now.

The difference between those that try and give up and good guitar players is that the one who becomes the great guitar player keeps trying no matter what and fights through the rough patches. Just remember that playing the guitar should be fun. Don't give up, keep practicing and enjoy yourself. Before you know it you will be the next guitar hero!

Table of Contents:

Chapter 1 – Unleashing the Guitar Hero in You!
Chapter 2 – Guitar Basics
Chapter 3 – Guitar Positioning and Tuning
Chapter 4 – Ways to Tune Your Guitar
Chapter 5 – Playing Notes and Chords
Chapter 6 –Scales and Playing Your First Song
Chapter 7 – Practice
Chapter 8 – Before You Buy Your First Guitar
Chapter 9 – Purchasing Your First Guitar
Chapter 10 –Buying a Guitar Online
Chapter 11 – Earning Money with Your Guitar
Chapter 12 – Conclusion

ADDITIONAL INFORMATION:
eBook Format: Adobe PDF
Platform: Windows and Macintosh
Download Format: Compressed .ZIP
File Size: 1.31 MB
Sales Page Included: Yes!
Master Resell Rights: Yes!
Private Label Rights: Yes!
You will get an instant download of this product after purchase.